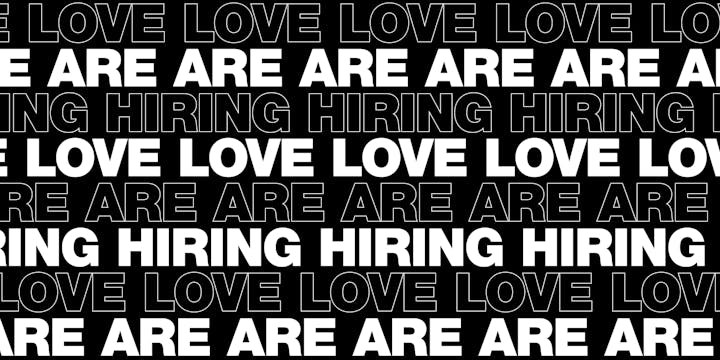 WHY WE'RE HERE
We see what you won't.
We see the gaps, trends, blind spots and white spaces. Those 'right under your nose' and 'never thought about it like that' game-changers.
We see the stories, angles and opportunities. The ways in. And the ways out. The tiny tweak that makes the big difference and the big idea that's bigger than you think.
Insight, design and storytelling. For brands big and small. We see stuff that makes a difference.
WHY YOU'RE HERE
Ideas are the lifeblood of our agency. The Creative Director has overall responsibility for the creative output of the agency and for the day-to-day running of the creative department. They will lead the team in the creation of simple, surprising and empathetic ideas that bring commercial success to our clients and the agency. Their role is to lead, inspire and motivate a team who can deliver the best creative solutions for our clients.
WHAT WE WANT
Experience of managing a team of Creatives
Experience of working with clients at a senior level
A well-developed appreciation of design and art direction
Experience of driving the creative process through an agency from initial brief to final product
Able to demonstrate an excellent level of design and creativity in your work
An appreciation of, and a flair for, design and typography
Able to demonstrate an expansive frame of reference (cultural trends, channels, collaborators, finishes and techniques) to explore and recommend ways to best tell a Brand's story
An ability to think beyond design e.g. Advertising, Spatial
The ability to visualise an idea
An ability to interpret written and verbal briefs from clients and colleagues
Advanced knowledge of In-design, Illustrator, Photoshop
Able to demonstrate a thorough knowledge of creative production processes and procedures
An engaging and inspiring presenter who can captivate our client's imagination
WHAT YOU'LL NEED TO DO
To report to the Executive Creative Director on all issues relating to the management of the studio
To help set the creative ambition for any project and lead the delivery of world class design/creative solutions
To champion originality & storytelling seeking to dig deeper and uncover unique and inspiring brand stories
To encourage a 'what if' or 'why not' approach to your creative teams as they start to develop thoughts and directions
To ensure outstanding creative standards and ensure category conventions are challenged
To provide input as requested to CBD/AD/AMs or in conjunction with the design team to establish budgets and timescales at the outset of the project/phase of work
To 'cast' the best possible combination of talent from across the studio
To work with the Executive Creative Director, and Account Directors to ensure that the overall understanding of the importance of challenging the creative brief is instilled within the company
To spot opportunities and aim high for award-winning work
To ensure the quality of strategic creative thinking emerging from the studio in liaison with LOVE's planning function and the ADs/CSD
To ensure that the creative team bring strategic creative understanding and leadership on all their projects
To push yourself, your team and even the client to go beyond what's in the brief showing how the agency's vision can be transformative
To utilise your deep strategic understanding of our client's brands to actively lead & inspire the team, partner clients and anticipate change
To have a thorough understanding of design software as this relates to the successful execution of your creative ideas
To work closely with production department/Executive Creative Director/external suppliers, to further develop an understanding of the production process and the implications of design/creative proposals on that process (constraints, opportunities, costs) ensuring that our design proposals presented to clients can be implemented
To have a thorough understanding of design software as this relates to the successful execution of your creative ideas
To ensure all work is correctly backed up and organised in line with agency procedures
To ensure that you and the teams time on jobs is correctly logged
SUSTAINABILITY
1. To leverage spare studio capacity behind proactive, sustainable thinking for current clients
2. To package and sell sustainable thinking. Ensure LOVE leads the sustainable thinking agenda on current agency rosters
3. To ultimately be able to change client expectations from "cheap and easy" to the "correct and eco"
CLIENT RELATIONSHIPS
1. To build great client relationships strengthened through presentations & workshops as well owns, builds and champions the creative client relationship
2. To be inspiring and objective in expressing a recommendation on creative work with clients
3. To build a clear understanding of our client's business enabling leadership of all work-streams and the gravitas to engage senior clients.
4. To educate clients to ensure the best possible creative solutions to their problems
5. To maintain the agency's high level of service, which is fundamental to client retention
BUSINESS DEVELOPMENT
1. To play a role in preparing, presenting and winning new businesses pitches
2. To collaborate, lead and empower the Creative and Account Management teams to articulate brand strategy and sell creative work to the highest standard
3. To craft our success stories - show reel, credentials, case studies and award entries
4. To build creative reputation of the agency with clients, industry and staff - speaking engagements, video pieces, blog posts, tweets etc.
PEOPLE MANAGEMENT
1. To inspire others to realise the agency's ambition and actively promote the agency's values
2. To act as a deputy to the Executive Creative Director and provide total support to them showing real leadership to the team as and when required
3. To take day-to-day supervision and management of any direct reports
4. To ensure that good communication channels are maintained between the Creative and the AM team.
5. To be an active participant in LOVE culture and safeguard the agency's upstart mentality and desire to embrace the unconventional
6. To contribute to the welfare, buzz, health and atmosphere of the studio as a whole
7. To motivate, inspire and lead your team, fostering a culture of accountability and solution provision
8. To undertake staff appraisals to help develop individuals and improve efficiency & skills that contribute to the agency's business goals
9. To identify resource requirements and participate in the recruitment process
10. To ensure that all new starters are properly inducted into the department
11. To quickly identify and address people problems or issues within the Creative team
12. To share learning from projects with the rest of the Creative department
FINANCE
1. To ensure that projects are managed as effectively as possible keeping our costs down
2. To demonstrate an understanding of wider agency financial issues
EXPECTED BEHAVIOURS
1. Communication
You're able to work with the account management and strategy teams to build and deliver clear, concise and effective presentations demonstrating knowledge and understanding
You make complex creative ideas clear and understandable for clients and are comfortable presenting to the most senior clients. You can think on your feet and respond appropriately to client questions and requests.
You have regular dialogue with both your team, but also senior members of other departments within the agency, to ensure the agency is running smoothly and any issues can be quickly addressed.
2. Planning & Organising
You take responsibility for the projects you are involved in. You are able to develop a clear plan to ensure a project is delivered to the best of your ability.
You are aware of budgets and timelines and take this into consideration when developing ideas. You have a good awareness of production costs and lead times.
You are able to plan and organise the teams you manage, and you can effectively communicate with other departments within the agency to flag any concerns and address any issues.
3. Creativity
You creatively direct work (across different spaces) that is in-line with our reputation of delivering cutting edge, world-class creativity.
You develop and evaluate ideas which lead to new ways of thinking for the agency.
You create an environment which encourages innovation and creativity.
4. Teamwork
You promote team spirit, and you address any friction or tension between team members, or between departments.
You publicly recognise the contribution from others, and you celebrate successes with your team.
You take a leadership position beyond your direct reports, identifying and resolving issues proactively.
5. Resilience & Positivity
You're tenacious, positive and you fuel other people's energy and lift your spirits when workloads are high (or in quieter times).
You avoid blame and encourage others to learn from your mistakes.
You embrace change and help to implement it throughout the agency.
6. Managing others & Team development
You're committed and enthusiastic when it comes to leading your team and you regularly provide feedback, guidance and celebrate success.
You're observant and you proactively handle performance issues positively by discussing development needs. You have clear plans in place to help develop team members.
You delegate effectively. You are able to free your time to focus on the most important issues, and you are able to put your trust in others, enabling them to step up and grow.

GET IN TOUCH
Does this sound like the role for you? Show us what you've got, and tell us a bit about yourself at jobs@lovecreative.com