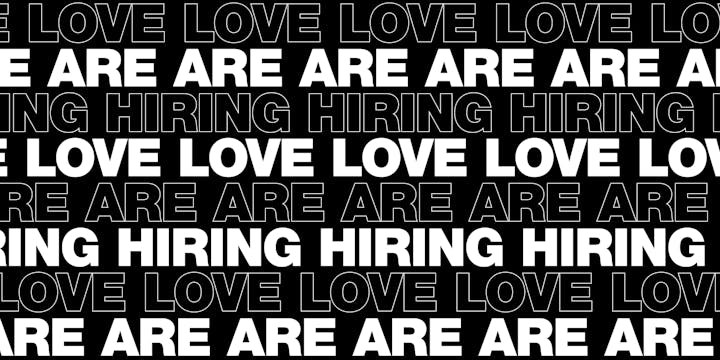 WHY WE'RE HERE
We see what you won't.
We see the gaps, trends, blind spots and white spaces. Those 'right under your nose' and 'never thought about it like that' game-changers.
We see the stories, angles and opportunities. The ways in. And the ways out. The tiny tweak that makes the big difference and the big idea that's bigger than you think.
Insight, design and storytelling. For brands big and small. We see stuff that makes a difference.
WHY YOU'RE HERE
Ideas are the lifeblood of our agency. The Design Director helps to set the creative ambition and lead the delivery of world class design/creative solutions. The Design Director has responsibility for directly supervising a team of Creatives with varied skills and experience - leading, inspiring and motivating them to deliver the best creative solutions for our clients.
WHAT WE WANT
Experience of managing a team of Creatives
Experience of working with clients at a senior level
A well-developed appreciation of creativity, culture and trends
Experience of driving the creative process through an agency from initial brief to final product
Able to demonstrate an excellent level of design and creativity in your work
Able to demonstrate an expansive frame of reference (cultural trends, channels, collaborators, finishes and techniques) to explore and recommend ways to best tell a Brand's story
An ability to think beyond design e.g. Advertising, Spatial
The ability to visualise an idea
An ability to interpret written and verbal briefs from clients and colleagues
Advanced knowledge of In-design, Illustrator, Photoshop
Able to demonstrate a thorough knowledge of creative production processes and procedures
An engaging and inspiring presenter who can captivate our client's imagination
WHAT YOU'LL NEED TO DO
To help to set the creative ambition and lead the delivery of world class design/creative solutions, which are our best possible response to a brief
To oversee and lead all your projects taking full responsibility for their development and delivery, reporting to the Creative Director/ECD on the status of your projects
To provide input to the Account Director/Manager and Creative Director/ECD to enable them to establish realistic budgets and timescales at the outset of the project/phase of work
To work with the Account Manager/Director and Creative Director to ensure that the creative brief is challenged and sets you and your team up to deliver world class creative
To ensure that you and your team go beyond what is in the brief showing how your idea/design can be transformative
To provide clear direction for the work as it progresses through the various stages, with guidance from the Creative Directors
To ensure that our work at all stages of the process meets or exceeds the client's objectives – acting as a true consultant rather than a reactive supplier – challenging and interpreting feedback wherever appropriate in an intelligent, informed and positive way
To ensure that the work of your team is on brief and in line with LOVE's values and reputation for inspiring, crafted and provocative creative
To ensure that our work at all stages of the process meets or exceeds the client's objectives, challenging and interpreting feedback wherever appropriate in an intelligent, informed way
To liaise with the Creative Director/ECD, to ensure that all creative work is approved by them before being submitted to the client
To develop a strategic, creative & commercial understanding of our client's brands and where individual briefs fit within the 'bigger picture'.
To work closely with production department/Creative Directors/external suppliers, to further develop an understanding of the production process and the implications of design/creative proposals on that process (constraints, opportunities, costs) ensuring that our creative proposals presented to clients can be implemented
To have a thorough understanding of design software as this relates to the successful execution of your creative ideas
To ensure all work is correctly backed up and organised in line with agency procedures
To ensure that you and the teams time on jobs is correctly logged
SUSTAINABILITY
1. To ensure regular flow of sustainable thought leadership to all clients (Green SEEN/brief responses/reference etc) and position LOVE as a thought leader in the space
2. To ensure sustainable material design is fully considered and built into every LOVE brief and client presentation. Ensure clients fully understand the importance of sustainable issues from a consumer perspective
3. To involve Production and Immersive teams at the start of the creative development process, rather than the end. Challenge every client brief received to ensure environmental impact is minimised
4. If dealing with third party suppliers, ensure we're asking the right questions of their production methods and materials
CLIENTS
1. To develop great client relationships strengthened through presentations & workshops as well as informal situations
2. To act as a key attendee of client workshops, research groups and debriefs
3. To ensure that work is presented to our clients professionally and with conviction, supported by clear rationale and recommendation
4. To confidently and objectively express a point of view on our creative work in client facing situations
5. To play a key role in new business pitches with potential new or existing clients
PEOPLE MANAGEMENT
1. To lead the team. Providing direction and support, with bi-monthly 1-to-1's for each team member
2. To direct the team to deliver projects through strong delegation
3. To ensure clear and measurable objectives are completed across your team, with reviews taking place in July and January
4. To develop your team's (individual) progression plan; setting objectives, growth and identifying training support to achieve progression
5. To plan and execute client team structures to support the client opportunity
6. To identify and address people problems or issues within your team, escalating to the CD, if appropriate
7. To be an active participant in LOVE culture, safeguarding the agency's upstart mentality and desire to embrace the unconventional. This includes music, venues for PLAY and sharing external cultural events that may inspire the wider team
8. To contribute alongside the Creative Directors to the welfare, buzz, health and atmosphere of the studio as a whole
9. To set an example by having a mature and collaborative relationship with the Account team
10. To proactively inspire and motivate the Creatives in your team during the life of a project – through highs and lows
11. To ensure that good communication channels are maintained between you and the Creative Director, the client servicing and creative servicing teams
12. To act as a deputy to the Creative Director and provide total support to him or her showing real leadership to the team as and when required
13. To pro-actively and informally develop the team by passing on knowledge, ways of working
EXPECTED BEHAVIOURS
1. Communication
You're able to work with the account management and strategy teams to build and deliver clear, concise and effective presentations demonstrating knowledge and understanding
You make complex creative ideas clear and understandable for clients and are comfortable presenting to the most senior clients. You can think on your feet and respond appropriately to client questions and requests.
You have regular dialogue with both your team, but also senior members of other departments within the agency, to ensure the agency is running smoothly and any issues can be quickly addressed.
2. Planning & Organising
You take responsibility for the projects you are involved in. You are able to develop a clear plan to ensure a project is delivered to the best of your ability.
You are aware of budgets and timelines and take this into consideration when developing ideas. You have a good awareness of production costs and lead times.
You are able to plan and organise the teams you manage, and you can effectively communicate with other departments within the agency to flag any concerns and address any issues.
3. Creativity
You constantly challenge yourself to deliver world-class solutions.
You're starting to provide others with creative direction.
You push the creative boundaries and encourage your team members to do the same.
4. Teamwork
You promote team spirit, and you address any friction or tension between team members, or between departments.
You publicly recognise the contribution from others, and you celebrate successes with your team.
You take a leadership position beyond your direct reports, identifying and resolving issues proactively.
5. Resilience & Positivity
You're tenacious, positive and you fuel other people's energy and lift your spirits when workloads are high (or in quieter times).
You avoid blame and encourage others to learn from your mistakes.
You embrace change and help to implement it throughout the agency.
6. Managing others & Team development
You're committed and enthusiastic when it comes to leading your team and you regularly provide feedback, guidance and celebrate success.
You're observant and you proactively handle performance issues positively by discussing development needs. You have clear plans in place to help develop team members.
You delegate effectively. You are able to free your time to focus on the most important issues, and you are able to put your trust in others, enabling them to step up and grow.

GET IN TOUCH
Does this sound like the role for you? Show us what you've got, and tell us a bit about yourself at jobs@lovecreative.com