CREATIVE (MIDDLEWEIGHT SPATIAL DESIGNER)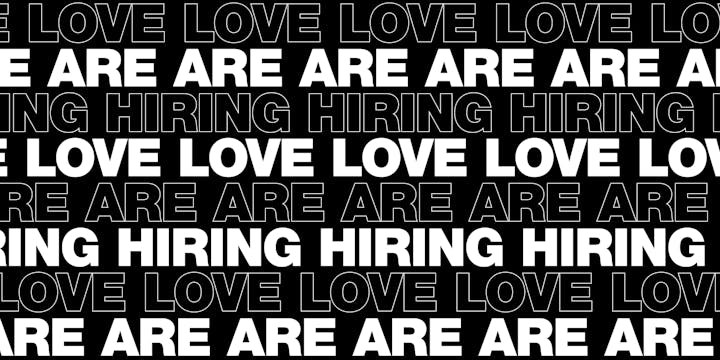 WHY WE'RE HERE
We see what you won't.
We see the gaps, trends, blind spots and white spaces. Those 'right under your nose' and 'never thought about it like that' game-changers.
We see the stories, angles and opportunities. The ways in. And the ways out. The tiny tweak that makes the big difference and the big idea that's bigger than you think.
Insight, design and storytelling. For brands big and small. We see stuff that makes a difference.
WHY YOU'RE HERE
Ideas are the lifeblood of our agency. Creatives provide mid-level design support to the Creative team across our client's brands. Creatives work independently, or with Senior Creatives, Design Director and/or the Creative Director to help make visual communication that continues to be the envy of the industry.
WHAT WE WANT
Able to demonstrate an excellent level of design and creativity in your work
An appreciation of, and a flair for, creativity, ideas and design
A strong eye for advertising communication
Good illustration skills; the ability to visualise an idea
An ability to interpret written and verbal briefs from clients and colleagues
Good knowledge of In-design, Illustrator, Photoshop
Able to demonstrate a thorough knowledge of spatial design/architectural specific production processes and procedures
WHAT YOU'LL NEED TO DO
To produce exceptional design/creative solutions, which are our best possible response to a brief
To ensure that you receive succinct and inspirational creative briefs and that you are clear on what you have been asked to do
To work with the AM/AD and Senior Designer/Design Director/Creative Director to ensure that the creative brief is challenged and sets you up for success
To look to go beyond what is in the brief to show further possibilities for how your idea/design can stretch
To ensure that all your work is on brief and in line with LOVE's values and reputation for inspiring, crafted and provocative creative.
To ensure that all creative work is checked and correct and shown to the project's Senior Creative and approved by a Creative Director
To constantly develop your expertise in idea creation, design development, materials, finishes and construction knowledge, that all contribute to elevating concepts beyond the expected.
To have a good understanding of the brands you work on, their stories, their behaviours and their design guidelines
To work closely with the production department/Senior Creatives/external suppliers, to further develop an understanding of the production process and the implications of design/creative proposals on that process (constraints, opportunities, costs) ensuring that our creative proposals presented to clients can be implemented
To have a thorough understanding of design software as this relates to the successful execution of your creative ideas
To keep the Senior Creative/Design Director informed of progress and raise any concerns about delivery of work, as appropriate
To ensure all work is correctly backed up and organised in line with agency procedures
To ensure that your time on jobs is correctly logged
SUSTAINABILITY
1. To ensure regular flow of sustainable thought leadership to all clients (Green SEEN/brief responses/reference etc) and position LOVE as a thought leader in the space
2. To ensure sustainable material design is fully considered and built into every LOVE brief and client presentation. Ensure clients fully understand the importance of sustainable issues from a consumer perspective
3. To involve Production and Immersive teams at the start of the creative development process, rather than the end. Challenge every client brief received to ensure environmental impact is minimised
4. If dealing with third party suppliers, ensure we're asking the right questions of their production methods and materials
PEOPLE
1. To be an active participant in LOVE culture, safeguarding the agency's upstart mentality and desire to embrace the unconventional. This includes music, venues for PLAY and sharing external cultural events that may inspire the wider team
2. To set an example to Junior Creative's and encourage them with their work wherever possible/appropriate
3. To lead by example by showing a willingness to help others who may be having to work late
4. To support and encourage interns and/or ensure a junior team member is doing so
5. To pro-actively and informally develop the team by passing on knowledge and ways of working
6. To pro-actively support your manager by suggesting new ideas and questioning thinking where appropriate
EXPECTED BEHAVIOURS
1. Communication
You help the agency build effective presentations – which presents the creative work in its best light, but also builds a clear rationale as to how we have answered the client brief.
You have a valued opinion and actively contribute to team and client discussions, and do not simply rely on others to take the lead. You're able to present creative ideas in an engaging and confident manner and can defend your ideas when appropriate.
You communicate regularly and clearly with colleagues – keeping them well informed as to your progress, and any potential issues regarding deadlines. You proactively seek to address any issues and work closely with other agency departments to help resolve them.
2. Planning & Organising
You plan specific tasks that are clear and realistic, so you can achieve particular goals/objectives. You never miss deadlines and communicate your progress to others.
You are able to organize both yourself and others. You can plan ahead, anticipating any issues or bottlenecks, and take appropriate action in terms of flagging your concerns to senior team members (both in creative and account management).
You're able to follow projects through to completion, and you can respond to unforeseen issues and prioritise accordingly.
3. Creativity
You participate in helping to generate original ideas and designs.
You challenge and question the norm to see if there's another way of doing something.
You're able to create and execute new concepts to a high standard based on your understanding of emerging client and market insights.
4. Teamwork
You value the views and opinions of others and encourage team working and co-operation. You share experiences and lessons you've learnt with others.
You keep your colleagues informed and keep them up-to-date regarding your progress. You elevate any issues, with a point of view, when necessary.
You do not operate in a Creative team bubble. You spend time working to develop strong relationships with all agency departments, ensuring we operate more efficiently as a result.
5. Resilience & Positivity
You don't vent your frustrations to juniors, you elevate these upwards, when appropriate to do so.
You keep your colleagues informed and keep them up-to-date regarding your progress. You elevate any issues, with a point of view, when necessary.
You do not operate in a Creative team bubble. You spend time working to develop strong relationships with all agency departments, ensuring we operate more efficiently as a result.
6. Managing others & Team development
You're constantly refreshing and improving your skills and creativity, and you take personal responsibility for your own developmental needs.
You're able to absorb and share knowledge with more junior members of your team.
You're always willing to give advice to more junior members, and you are viewed by more junior members of the team as a 'go-to' person.

GET IN TOUCH
Does this sound like the role for you? Show us what you've got, and tell us a bit about yourself at jobs@lovecreative.com