3 x Beauty Adventures in the Metaverse
Many of us are still grappling with the possibilities of the metaverse, but it already feels like a natural home for innovative beauty brands. Their sense of play and knack for experimentation is driving success across AR, VR, NFTs, gaming experiences and virtual worlds – while other categories lag behind.
The beauty world's early adopters are using the metaverse to improve traceability and transparency, launch virtual try-on and educational tools, and create shopping experiences that are accessible to all. Here are three examples of beauty going meta:
1. Gen Z enjoy their first taste of beauty online
In a trend accelerated by two years of pandemic-induced lockdowns, shared virtual spaces are helping beauty brands make deeper connections with young consumers and take brand experiences into the digital realm.
Korean beauty brand Etude House is the latest to open an explorable virtual shop on Zepeto, a platform that lets users create a 3D animated version of themselves to use across in-app chatrooms.
Visitors can test out make-up on their personal avatar (following in the footsteps of Dior beauty), which provides an affordable way for a young generation of consumers to connect with the brand.
Virtual try-ons often lead with an element of play and discovery. Once consumers are familiar with the idea, the experience evolves into brand gamification, unlockable rewards and eventually in-platform purchasing.
2. Virtual idols get a make-down
Virtual influencers are nothing new in China. The market's first major digital KOL to go viral, Ling, was created in May 2020 and has since graced the cover of Vogue Me alongside real-life celebrities G.E.M., Liu Haocun and Liu Yuxin, helping to unlock the media brand to China's Gen Z readership.
But while Ling was modelled to reflect China's traditional beauty ideals, a new kind of virtual idol created by Shenzhen-based animator Jesse Zhang is just the opposite. Angie was conceived as an inspirational alternative for younger generations and will be used to represent "real beauty" in a country where demand for plastic surgery, beauty apps and face altering filters is on the rise.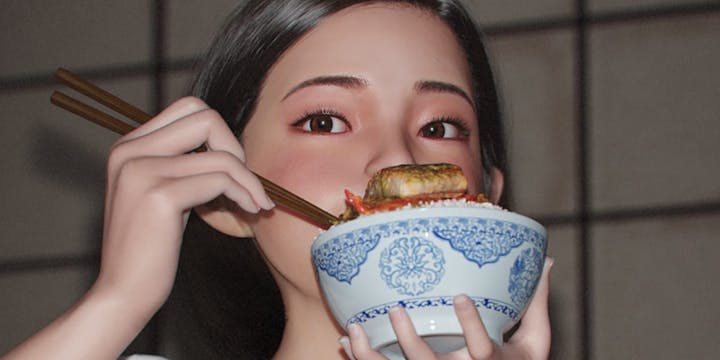 For now, the creators have no plans to monetise Angie via applications such as livestream shopping, opting instead to showcase her 'imperfections' (including acne scars, dry skin and creased make-up) to help make the metaverse more inclusive. But for inclusive beauty brands looking to enter virtual worlds, Angie could be the perfect partner.
3. Bottling the scent of the metaverse
What does the metaverse smell like? A sweaty VR headset and leftover takeaway food? Mark Zuckerberg's socks?
London-based perfumier Rook Perfumes is on a mission to answer this intriguing question. With help from 100 members of the crypto community, the brand is creating a gender-inclusive fragrance that officially encapsulates our shared virtual space. The perfume will come with co-creation rights and an NFT artwork label, naturally.
The "Scent the Metaverse" project is headed up by Rook's in-house perfumer Nadeem Crowe and those who purchase a ticket for 0.3 ETH (approx. £690) will be invited to help the Rook development team shape the final fragrance.
Crowe said: "This experiment will help digital pioneers form better memories of their digital experiences and give them something to (physically) wear on their nights out there.
"Through the sense of smell, I am seeking to bring a feeling of permanence into the metaverse, as well as create scent collections that bridge the virtual community with the physical world. I am excited to start with the core of the metaverse."
SEEN is compiled by LOVE's Head of Culture, Kat Towers. Want to say hello, ask questions or challenge her cultural knowledge? Get in touch - kattowers@lovecreative.com