3x Booze Brands Making Cross-Category Moves
With data showing that Gen Z, and even millennial, consumers are drinking less alcohol, booze brands face a challenge to maintain their audience and attract new drinkers.
Enter the cross-category collab. By strategically dipping a toe in the rich waters of non-beverage categories, alcohol brands have an opportunity to engage new consumer groups and adjust their positioning, becoming lifestyle brands with a role to play beyond their core products.
Here are three booze brands looking past the bar:
1. CAMPARI AND ALESSI LIGHT THE WAY
Making its debut in the world of homeware, Campari teamed up with iconic Italian design label Alessi to launch a collection sure to quench the thirst of interiors fans the world over.
Comprising the "Cirifletto" mirror and "Senzabuio" lamp (the latter modelled after Campari's glass soda bottle, first designed in the 1930s), this two-piece collab takes nostalgic cues from the drinks brand's iconic aesthetic and modernises them for today's audience. The result is a beautifully chic collection that oozes 1970s cool.
Premiering at Alessi's Via Manzoni store during Milan Design Week in June, this is a stylish example of a much-loved brand finding the perfect collaborator to enter an unexpected category.
2. KWEICHOW MOUTAI'S ICY NEW VENTURE
In a China-first, luxury liquor brand Kweichow Moutai has hitched its wagon to domestic milk brand Mengniu Dairy to create its very own alcoholic ice cream.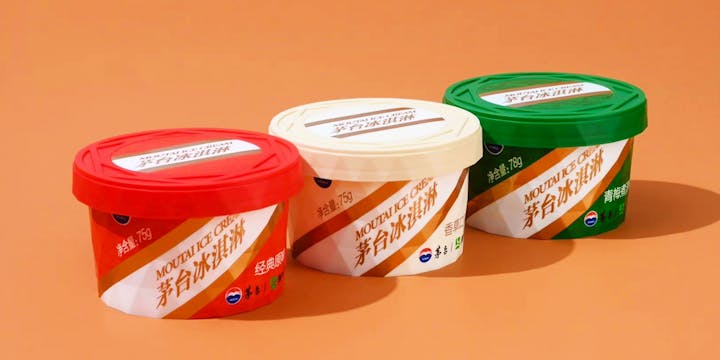 The ultra-cool collab, which proved popular at its Guiyang shopping mall launch, was clearly a strategic attempt to broaden the brand's appeal with Gen Z consumers. The liquor brand, which is the most valuable in the world, is primarily popular with an older and more affluent audience. This launch was designed to refresh the brand's image and tap into China's younger, ice cream-loving consumers – a market valued at $24 billion in 2021.
Speaking about the brand's typical audience, Tom Griffiths, business director at EQI Data, said to Jing Daily: "[Moutai] has built up such a specific culture around itself. The liquor is mainly consumed by businesspeople with refined taste in their 40s and over. Now, it is a challenge for it to get outside that circle."
It's a bold move that worked – sales exceeded $30,000 within the first seven hours, while on Weibo the hashtag and videos of "drunk ice cream" received over 65 million views.
3. PERONI SERVES UP NEW SCENTS
Having beer stashed among your toiletries is usually not a good look. But now, in another eye-catching cross-category move, Italian lager brand Peroni has joined forces with fragrance house Ellis Brooklyn to drop a limited-edition "Spritz Collection".
Having fun with the double meaning of "spritz" (we think?), the collection features six Ellis Brooklyn travel spray fragrances that pair with a cold bottle of Peroni Nastro Azzurro or a custom Peroni-infused spritz recipe. It comes in a "Peroni-inspired dopp kit" (aka a washbag). Angela Gerlach, associate marketing manager for Peroni, said the collection is "designed to take you on a sensory journey, through the sips and scents of Italy".
Ellis Brooklyn, for those not in the know, is a luxury fragrance and body care brand founded by New York Times beauty journalist Bee Shapiro in 2015. This collab definitely ticks the unexpected box, and once you get over any initial confusion – fragrances are not intended for consumption or inclusion within cocktails, Ellis Brooklyn reminds us – it's a fun way for Peroni to build its premium credentials.
Words by Emma Cocker, Copywriter.
SEEN is our monthly-ish 3x3 newsletter about brands, trends and creativity. Subscribe by getting in touch here: hello@lovecreative.com.