3 X BRAND BENEFITS OF METAVERSE FASHION WEEK
London, Paris, Milan… Metaverse?
This weekend kicked off the inaugural Metaverse Fashion Week (MVFW) – the world's first fully virtual take on the fashion calendar's biggest biannual event.
Hosted and created by online 3D world Decentraland, the four-day long experience featured over 55 of the real world's biggest brands. It took runways, performances and after parties and turned them totally digital.
But while IRL fashion week usually presents tonnes of opportunities for outside names as well as fashion houses, is the metaverse's version just as bountiful for non-fashion brands?
Here are three reasons why MVFW is worth it for luxury brands looking to raise awareness.
1. CONSUMERS ARE HUNGRY FOR INTERACTION
After the pandemic plunged us into darkness, the number of virtual events increased by over 1000%. And despite the world slowly waking up from its two-year slumber, those numbers aren't showing signs of dropping any time soon. People are hungry for interaction, but the thought of in-person meet ups is still daunting for many.
It's a mood that has been reflected in real-life fashion weeks where, despite welcoming back the physical runway, brands have also been exploring how Web3 can work its way into their shows. Fall 2022's Milan Fashion Week saw Diesel launch D:Verse, a digital community for limited NFT collection drops and metaverse wearables.
Events like MVFW allow brands to tap into this feeling via a sea of hyper-engaged people looking to re-establish a connection from the comfort of their homes. It's a real opportunity to enter the virtual world with a bang.
2. NO TICKETS, BIGGER AUDIENCES
Unlike other fashion week events, which are notoriously who-you-know situations, MVFW is un-ticketed. Literally anyone could attend any show throughout the four days.
According to Vogue Business, "visitors [were] able to virtually experience fashion shows, attend live music sessions at branded after parties, and buy and wear digital clothing directly from catwalk avatars". Add that to the fact that these events could be accessed from anywhere in the world, and brands were unlocking potential audiences of thousands.
Reports suggest that since COVID, an overwhelming majority (80.2%) of event organisers[MD1] have been able to reach a wider audience through virtual events. So for brands hoping to be seen, even the mere mention of their name at an event like MVFW could mean huge exposure – not only solidifying status within the fashion world, but creating a connection with the metaverse too.
3. LEADING THE FUTURE
The rise of digital has left many people understandably questioning the sustainability and longevity of real-life fashion week as a whole.
Amber Jae Slooten, co-founder of The Fabricant (one of the first brands to announce their participation in this year's MVFW), told Dezeen: "As we're presenting ourselves in online spaces more and more, I feel like a fashion gathering in Decentraland would be a great experimentation on how much fashion weeks in real life are still necessary to be held.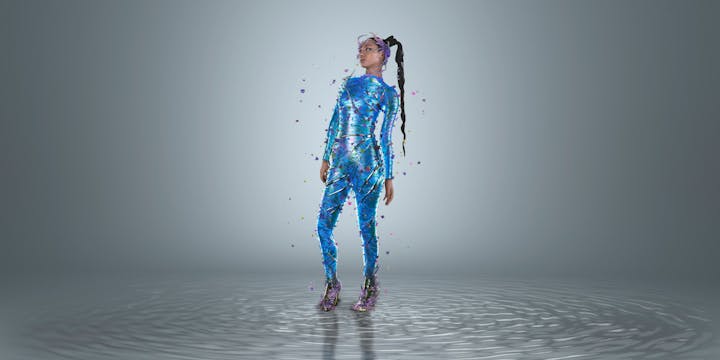 "If this fashion week facilitates a place and time for people to come together online and not have to fly across the world and create all of those physical items/waste to produce 10-minute fashion shows, this would save a lot of valuable resources."
One brand to take this on board is Mercedes-Benz, who streamed their October Fashion Week to an impressive 10 million viewers – a number that helps solidify the idea that digital could be the way forward for fashion. And while the Metaverse and NFTs do present their own sustainability issues, the benefit of MVFW for any brand is clear.
See you at the next online after party.
SEEN is compiled by LOVE's Copywriter, Emma Cocker. Want to say hello, ask questions or challenge her cultural knowledge? Get in touch - emmacocker@lovecreative.com