3 x Brands levelling up through gaming
The gaming industry is one of the most influential in the world right now, with a vast audience of Millennial and Gen Z consumers.
Brands cannot ignore the sheer scale of this market – last year the Hollywood Reporter said gamers were spending more of their free time playing Fortnite than scrolling through Facebook and Instagram, or viewing Netflix and YouTube.

And with the world in lockdown-mode, our physical and virtual realms have been intersecting more than ever, presenting new opportunities for brands to activate in these spaces. Here are three brands levelling up through gaming:
1. KFC x Animal Crossing
The release of Nintendo's Animal Crossing: New Horizons in March coincided with a world under lockdown and secured the game's place as a cultural phenomenon, quickly becoming the fastest-selling title for the Switch and uniting over 11 million users.
A number of brands have seized the opportunity to create engaging experiences within the game, from 100 Thieves dropping a virtual collection to the Getty Museum opening up art to Animal Crossing fans.
Last week, KFC Philippines joined the Animal Crossing family by creating its very own virtual restaurant on the island.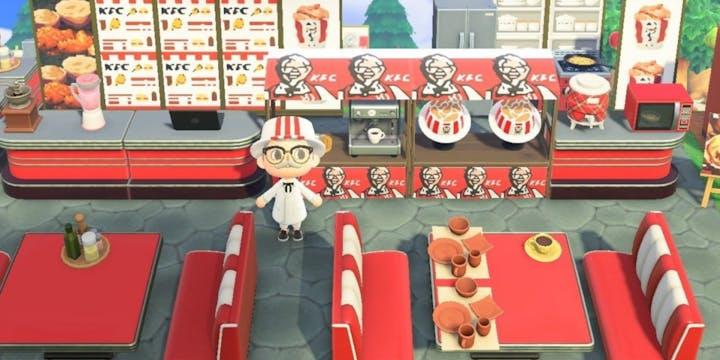 KFC took to Twitter to tease a video of a virtual Colonel Sanders giving a tour, with a slavish recreation of the iconic KFC restaurant's interior.
No detail had been overlooked, including themed booths and chairs, menus with real-life items and outdoor entertainment areas.
We're now seeing more brands gamifying their product offering, providing offline rewards for consumers' online activity. This collaboration was no exception - KFC Philippines used Twitter to post the island's code, allowing players to visit the in-game restaurant with the chance to win a free eight-piece meal IRL.
2. Gucci x Tennis Clash
The luxury industry has experimented with gaming in recent years, with brands like Louis Vuitton and Burberry creating successful mini-games and partnerships as part of their marketing strategies. More recently, Gucci announced a partnership with Tennis Clash, a popular multi-player mobile app.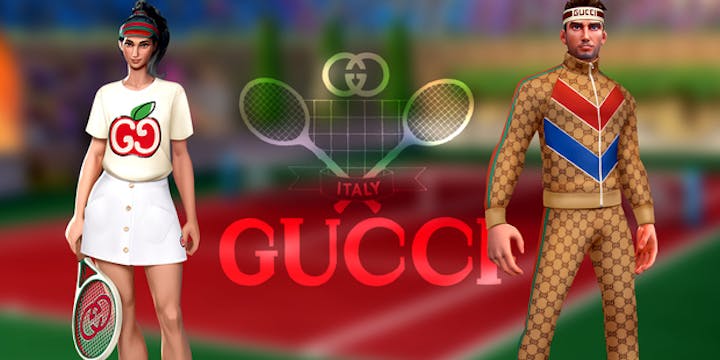 The collaboration allows players to discover exclusive outfits designed by the luxury fashion house. Players will also be able to purchase IRL clothing items to match their Tennis Clash character on Gucci's website.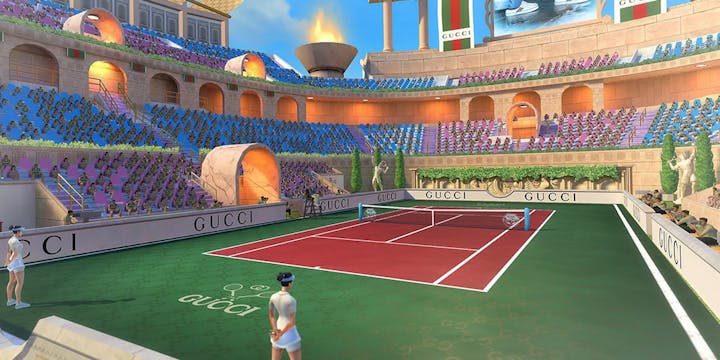 The developers have also created a new tournament game mode dubbed the "Gucci Open", featuring Gucci-branded everything. Since there's no Wimbledon this summer, we'll be downloading the app if anyone fancies a very fashionable game of doubles?
3. MAC Cosmetics x SIMS 4
Last year, MAC Cosmetics launched a phenomenally successful collaboration with Chinese mobile gaming platform Honor of Kings. The collab secured 14,000 pre-orders and sold out within 24 hours. The collection comprised five lipsticks based on five heroines from the game and was available on Tmall, MAC's online store and a WeChat mini program.
Following this success, MAC Cosmetics are bringing their artistry in-game via a tie-up with iconic lifestyle simulation game The Sims 4, making MAC the first ever make-up brand available in the game.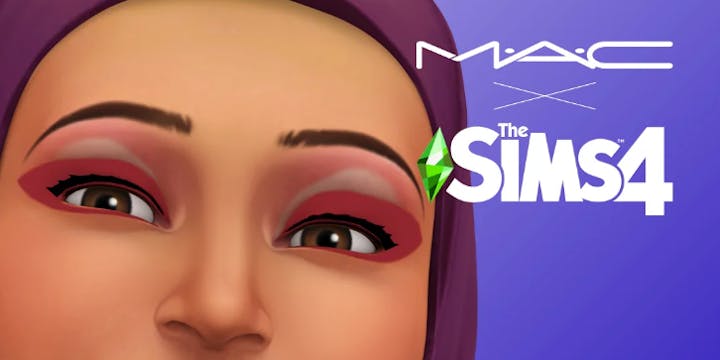 Available as a free update, the 12 make-up looks were created by MAC's Director of Makeup Artistry Romero Jennings, who created each look with varying skin tones in mind.
In a press release, Jennings says: "As a Black makeup artist, it's especially important that the looks work for Simmers of all skin tones."
Lyndsay Pearson, General Manager and Executive Producer of The Sims, adds: "For the past 20 years, The Sims has strived to empower people to express themselves—both in the game and in real life—and our collaboration with MAC Cosmetics further celebrates the diversity and creativity of our amazing community. Players can experiment with these new makeup looks from MAC to create Sims that are unique and redefine their own rules of beauty."
We're seeing consumers embrace any opportunity to extend their real-life identities into digital spaces, where they're spending an increasing amount of time. Closing the loop, players are encouraged to share their digital creations across social media using #MACxTheSims.
Game on! If you'd like to see your brand live in a virtual space, get in touch with us at hello@lovecreative.com and hit player two.
SEEN is compiled by LOVE's Head of Culture, Kat Towers. Want to say hello, ask questions or challenge her cultural knowledge? Get in touch - kattowers@lovecreative.com