3x Brands Speaking Fluent Gen Z
Gen-Z: the generation that brands just can't seem to crack. Born and bred in the golden age of the internet, they're savvy, smart and ridiculously *online*. They're also the generation that have remoulded the way we talk to each other via social media.
Now, thanks to Gen Z, the rules have changed. Gone are the days of the GIF – RIP. Memes are only cool sometimes, and lowercase is the only case. For those once well versed in Internet Speak, it's exhausting.
But, through the murky and ever-changing waters, there are a handful of brands that have successfully emerged as Gen Z masters. Here are three brands coming out on top with the Zoomer consumer.
1. MCDONALD'S FEEDS GEN Z TWITTER
Over the past few years, something special has been happening over on McDonald's' main Twitter account; a shift in tone that's seen the brand catering solely to their Gen Z following
A first glance shows a feed seemingly created by one individual pinging out short, one-sentence tweets. But a closer look sees cleverly constructed brand posts, crafted with a satirical-yet-charming tone, promoting a mixture of product launches and topical content.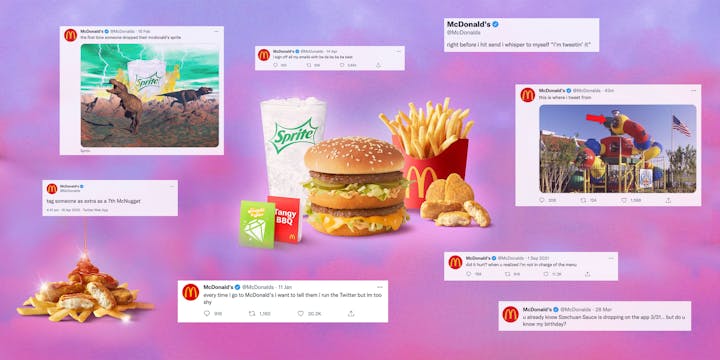 It's a move that's working, too. In the run up to the relaunch of their much-loved Szechuan Sauce, the account posted several tweets – including one which asked followers to "comment szechuan and i'll tell u which packet u are", which gained over 2.5k comments and 31k likes. Even a throwaway tweet stating "every time i go to McDonald's i want to tell them i run the Twitter but im too shy" gets an incredible 20.2k likes and over 1.1k retweets.
Bold for a brand with such global presence, the feed is a total departure from their in-store comms. But by tailoring their social strategy to appeal to the people that matter, it's clear that McDonald's is becoming a major player in the Gen Z Twittersphere.
2. ESTRID REIMAGINES RAZORS
Over the past couple of years, Estrid—the sustainable, inclusive razor brand—has appeared on the radars of Gen Z-ers from nowhere.
A mixture of topical memes and curated colourfulness, everything about Estrid screams Gen Z. From a video of a hedgehog floating serenely on a lilo, to a simple product post with the caption "It's kinda cute…right? 🥺", Estrid speaks to Zoomers and Zoomers only.
But the real magic of Estrid lies in the way they are cleverly reimagining shaving as an act of self-love and choice – a value that, in today's society, places highly among Gen Z audiences.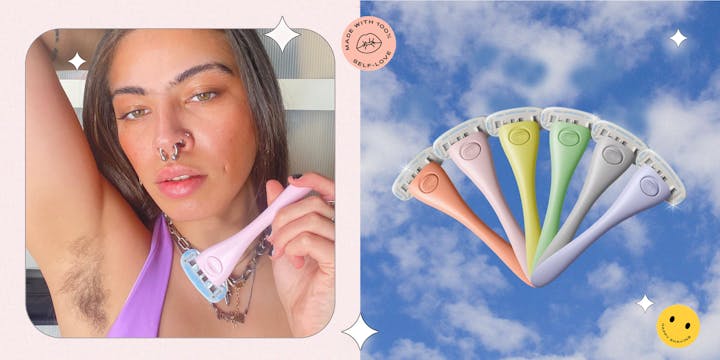 It means that the brand can write and post pretty much anything that makes their followers feel good – and gives them the freedom to talk to their audience in a way they understand, with the hope that the loyalty follows.
"We wanted to take a very boring, routine chore and just add a little bit of magic, design, and thought into it," said founder Amanda Westerborn. "As one of the very few brands in the world, we actively show female body hair in our visual communication and want to drive a shift away from hair removal is seen as a "must" to a choice – your body, your control,"
3. BABE CRACKS OPEN THE WORLD OF WINE
The brainchild of Instagram influencer The Fat Jew, BABE is the canned sparkling wine that's taken social media by storm.
Over on their Instagram, they've got an interesting mix of product shots, topical memes and brand campaigns. And with a bio that reads "Cute wine vibes live here. 21+ only (OBVI). Enjoy responsibly, boo" – their feed is clearly speaking to an ultra-specific slice of the population.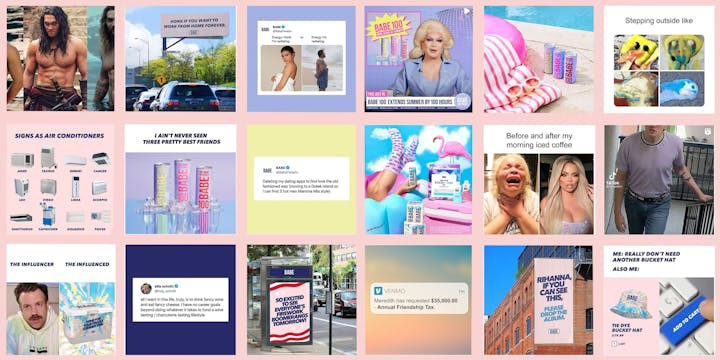 For a canned wine brand with Emily Ratajkowski as its Chief Tasting Officer, some might say that BABE has created a tough task for itself. But with 168k followers, their strategy seems to be working. As The Fat Jew himself put it in an interview with Forbes: "No matter what, we want to make sure you're talking about us.
"Whether it's a tremendous billboard in San Francisco that says "GAY BEER" next to an ice-cold can of red wine… or just a digital ad that makes you say "what the f*ck?" while you're scrolling Instagram on the toilet, we are going to make sure you're thinking about BABE at all times, become deeply obsessed and maybe stalk us."
SEEN is compiled by LOVE's Copywriter, Emma Cocker. Want to say hello, ask questions or challenge her cultural knowledge? Get in touch - emmacocker@lovecreative.com