3X BRANDS TAPPING INTO EXPERIENTIAL ESCAPISM
We've all heard the phrase "retail therapy", right? The idea that a spot of shopping can whisk you away from those everyday woes.
While some brands leave the escapism entirely in the hands of their consumer, others like to tap into this feeling by turning up the experience – really immersing their customers in a world of their design. It's an effective strategy, and one that can help enhance the story behind a particular product or brand. Not to mention the social media buzz that often surrounds such spaces.
With the past few years we've had, lots of brands have been busy dialling up the escapism of late. It's made for a stellar year of pop-ups, and here are three retail concepts we think have nailed it.
1. COACH HEADS "SOMEWHERE IN AMERICA"
As seen over the past few years, Coach has a penchant for pop-ups that play into escapism. Efforts such as their New York City subway car concept, which appeared in Jakarta's Pondok Indah Mall, are designed to jar; transporting visitors out of the ordinary and to another place entirely. Usually somewhere inspired by their latest handbag collection.
This time, their destination of choice was "Somewhere in America" – a location designed around an imaginary suburb in the good old US of A. Having dropped in both Japan and Korea, their vision of American heritage is already brightening up the Asian retail space for fall '22. Most recently, they took over Seoul's Silhouette Café and transformed it into the iconic Coach Bakery.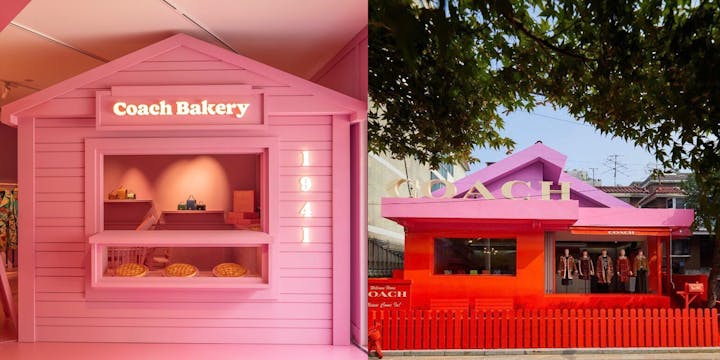 Featuring wooden porches wrapped in candy-sweet colourways, and bags stacked on retro milk crates and on the backs of old bicycles, if there's one thing to be said about Coach's town, it's anything but tin pot.
This latest concept is just another sleek execution from a brand that is consistently playing into the memories and imaginations of its consumer. By now we know that Coach is a pro at crafting eye-catching spaces that turn up the romanticism – and once again, they haven't disappointed. Their western world inspired pop-up provides the perfect level of escapism for the eastern retail market.
2. CASABLANCA'S "CASA AIRWAYS" TAKES OFF
Taking flight in Selfridges' coveted Corner Shop retail space, Casablanca's recent retail concept lands the idea of escapism quite literally.
Feeling inspired by Paris and the golden age of travel, the London-based luxury clothing brand has created "Casa Airways", their very own vintage airport lounge. The space features a Casablanca-branded Champagne bar, airport seating, and a chic security-style conveyor belt that, for once, you wouldn't mind queueing for.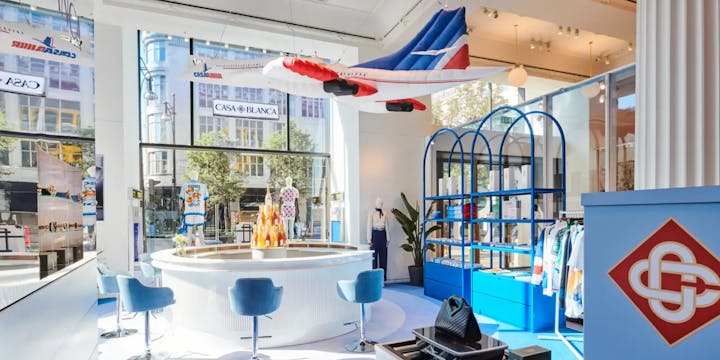 According to Creative Director Charaf Tajer, the concept takes major cues from the nineties – a time where every single detail of a journey was carefully curated to create a first-class experience. And by tapping into the rich world of luxury travel, Casablanca has successfully nailed a moment in time which lies close to the heart of almost every consumer.
Speaking to Vogue Business, Tajer said: "When conceptualising the Corner Shop space, we employed the same sense of worldbuilding and creative storytelling that is typically applied across everything we do — from our shows, to campaigns, and all the intricate detail within the garments themselves,
"I hope that people enjoy the space with a sense of wonder and joy and are transported into our universe."
3. CHANEL'S CRUSH IS CALLING
At the beginning of this year, an #ad dropped on Blackpink singer, Jennie Kim's Instagram. It was a slow-mo teaser video, showing the K-Pop superstar answering a call from her 'crush' on a Chanel branded payphone.
Since then, the luxury behemoth has been slowly rolling out the campaign surrounding their Chanel Coco Crush jewellery line, and September finally saw the retail execution hit stores.
Bringing a slice of French glamour to the shops of Shanghai, the pop-up is set up in the style of a Parisian street – complete with powder-pink walls, a lamppost and bench, and those same retro payphones from Jennie's Insta post. Inside, there's a postcard stand with snaps of each piece from the new Coco Crush jewellery line.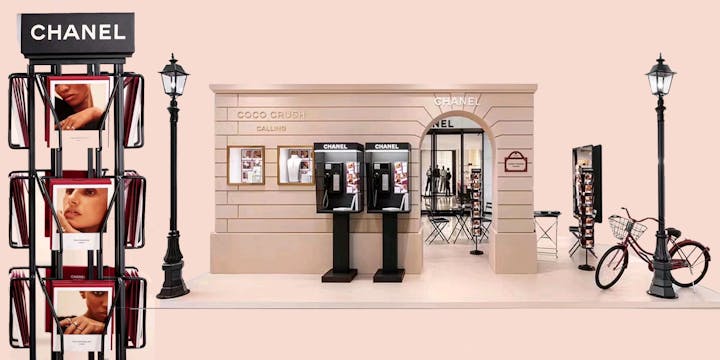 Like Coach's vision, Chanel's pop-up juxtaposes east and west – dropping an ornate vista into the shiny white halls of a Shanghai shopping mall. The set-up invites shoppers to escape the busy streets of China in favour of a quaint Parisian scene.
While playing into Parisian stereotypes might be a somewhat expected execution from the brand, the addition of Blackpink's most popular member helps make this a space that's sure to create a buzz in the Chinese experiential market.
Either way, it's a great example of escapism that we're sure will delight both K-Pop and Chanel fans alike. Watch this space.
Words by Emma Cocker, Copywriter.
SEEN is our monthly-ish 3x3 newsletter about brands, trends and creativity. Subscribe by getting in touch here: hello@lovecreative.com.