3x BRANDS TO WATCH THIS YEAR
Whether you're an established brand lost in a sea of sameness or a start-up trying to disrupt a highly competitive sector, you have to force your way into the cultural conversation or risk falling into the forgotten pile.
In 2023, brands have a seemingly endless number of ways to reach consumers - but so do all of their rivals. From traditional media like billboards to entire brand worlds in the metaverse, everyone is fighting to be heard. Brands that cut through the noise with a disruptive and brave attitude are the ones that stick around.
Here are three brands we think have done just that. This forward-thinking trio look set for big things this year.
1. NOTHING: THE BRAND DISRUPTING THE TECH MARKET.
The tech sector has long been spearheaded by an indomitable leader - Apple. Despite major innovations in tech development, no other brand has quite managed to differentiate its approach enough to drive the same levels of hype. Apple brought a completely new perspective on how technology should look, behave and feel. Challengers have struggled to match this gold standard in disruptiveness.
However, London-based tech brand Nothing recently unveiled its first smartphone, the Phone (1), and sent shockwaves through the industry by applying a super slick, fashion-centric vibe to its identity. The futuristic design was led by former Dyson designer Adam Bates and the phone takes inspiration from artists like Massimo Vignelli, who designed New York's subway map. It has since been dubbed "a new era of technology design" by Hypebeast and a "radical reinterpretation of mobile tech" by Wallpaper.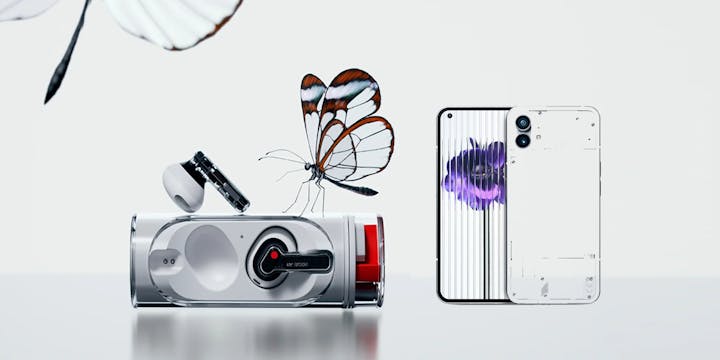 From mimicking the strategy of hype streetwear drops with pop-up installations to collaborating with exciting fashion designers, Nothing has established itself as a futuristic, fashion-forward consumer tech brand. The bricks-and-mortar store in Soho is said to be designed as a boutique rather than a typical tech outlet, inspired by the iconic Olivetti stores in Italy.
With Nothing still in its relative infancy, there's huge potential for the brand to expand its product portfolio. With a Phone(2) in the pipeline, we'd love to see the brand break away from Android and bring out its own unique software, aligning with the phone's ultra-slick hardware design.
2. DIESEL: FROM DEAD BRAND TO IT BRAND.
In 2019, Diesel filed for Chapter 11 bankruptcy protection in the US. The label's jeans and other apparel were heavily discounted, and its average customer age was above 40. A once mighty brand had officially disappeared from the cultural zeitgeist.
Then, totally unpredictably, and in just a few years, Diesel did a U-turn and cemented itself as an "it brand" once again. But how?
The brand's model shifted from mass-produced discount items to drop-style collections, offering early access opportunities to key looks and introducing Diesel to the hype resale market. It began to put out campaigns full of irreverence, playfulness and wit, as opposed to the safer, more expected work of previous years. It opened a concept store in New York and massively dialled up the cool with experiential offerings, going big and bold with the key brand assets. From immersive pop-up stores to crazy viral runway sets, the switch to brave and conceptual has propelled Diesel into the new world luxury space.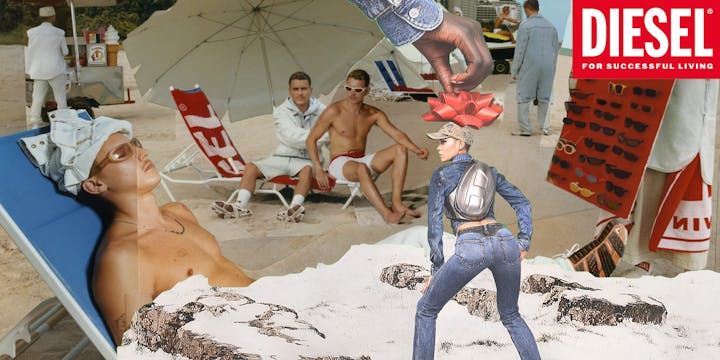 This stunning overhaul shows how a brand has to win in all aspects in order to sit as one of the best players in the market. Diesel is a great example of a famous brand becoming stagnant and then rising from the ashes to take centre stage once more without changing its price point, original values or core assets.
Diesel's transformation has been rapid, which means only a few of the bigger flagship stores have been given the conceptual treatment so far. In 2023, hopefully we'll see more Diesel spaces align with the new positioning.
3. PARADE: DOING LINGERIE DIFFERENTLY.
When we imagine how a new-to-world underwear brand might look and behave, Parade probably isn't what we picture. Which is exactly why the brand is winning. Founded in 2019, this Gen Z favourite is already being tipped to dethrone long-standing market leader Victoria's Secret.
While lingerie institutions tend to stick to a romantic visual world reliant on overtly sexy tropes, Parade came along with a completely new perspective. The brand's first store is a disruptive addition to New York City's Soho characterised by unapologetically bold colours, a maximalist attitude and 70s-inspired design references. With hand-out candy floss, branded arcade games and playful personalisation options, the space has transcended typical retail expectations to become a hangout destination for experience-hungry Gen Zs.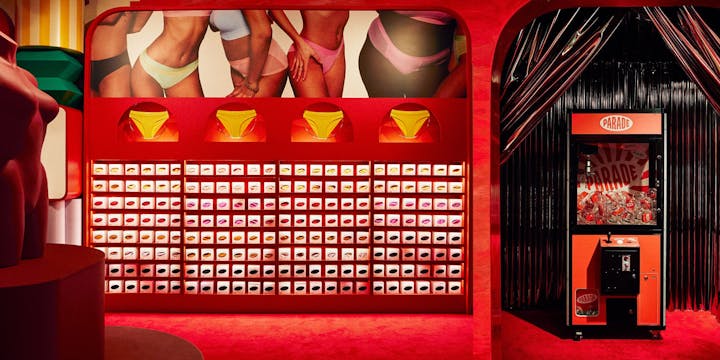 Parade has already amassed a cult following and a valuation of £111 million, an achievement earned by having the bravery to diverge from the lingerie sector's comfort zone and really tap into what consumers are engaging with.
Being a digital-first brand, Parade has only recently branched out into physical experiences. Hopefully we'll see further activations this year - will the brand carry the same theme through each of its stores, or localise and tailor each one, Glossier-style?
Words by Ella Palmer, Culture and Insights Executive.
SEEN is our monthly-ish 3x3 newsletter about brands, trends and creativity. Subscribe by getting in touch here: hello@lovecreative.com.