3 X BRANDS WINNING IN CULTURE
In the age of social media, brand misfires get called out fast. Cancel culture is at large, so it's important now, more than ever, for brands to know their place in the world.
Brands must be very clear about where and when to lean into culture and how they can add value to their communities. This isn't about hitting every date in the cultural calendar or collaborating at the speed of Supreme. People are newly 'woke' and cookie-cutter content plans won't cut it. It's not about being tricksy or trying too hard, it's about capturing the zeitgeist and doing less, better.
Here are three brands that found that sweet spot - the intersection of their brand x community x culture:
1. JIF X GIPHY
To celebrate National Peanut Butter Lover's Day earlier this month, JIF partnered with the GIF-hosting platform Giphy to create a limited edition jar, available via Amazon.
The double-sided 'JIF' / 'GIF' label plays into the seemingly never-ending internet debate about how the animated image format is pronounced. Jif had the following to say about 'setting the record straight, one jar at a time:'
'The debate over how to pronounce GIF has been raging for too long. Hard G or Soft G? "Gif" or "Jif?" If only there was a co-branded, limited-edition jar of edible education to finally set the record straight. A collaboration between two titans of pronunciation that unequivocally declares, "Jif is peanut butter, GIFs are animations." This is your lucky day, and this is that jar.'
JIF, a peanut butter brand, went from hypermarket to Hypebeast in one activation. Did people love it? The collaboration sold out in less than five minutes.
2. ACE & TATE'S FULLY RECYCLED STORE
Eyewear disruptors Ace & Tate have opened their first store featuring a fully recycled interior in Antwerp. The store was been created with recycled plastic waste sourced from the local area in an attempt to lower its carbon footprint.
Responsible retail design is a key priority for the company, who are working towards achieving carbon neutrality by 2030, and by the end of 2020 will offer 100% of their collection made from bio acetate.
Consumers want brands to mean more than their product – they're looking for value alignment. Ace & Tate keep customer experience at the heart of everything they do and constantly listen to what is important to them. As they grow their physical presence, they're showing a true commitment to sustainability without sacrificing on style.
3. NIKE PLAY INSIDE FOR THE WORLD
If we're talking about knowing your demographic, being authentic and connecting with consumers on an emotional level, we can't go much further without mentioning Nike.
Nike joined other brands who have promoted messages aiming to help curb the Covid-19 pandemic and reassure consumers during the crisis. Their post reads:
"If you ever dreamed of playing for millions around the world, now is your chance. Play inside, play for the world."
Several athletes, including Michael Jordan, Serena Williams, Cristiano Ronaldo and Tiger Woods, shared the post across their various platforms.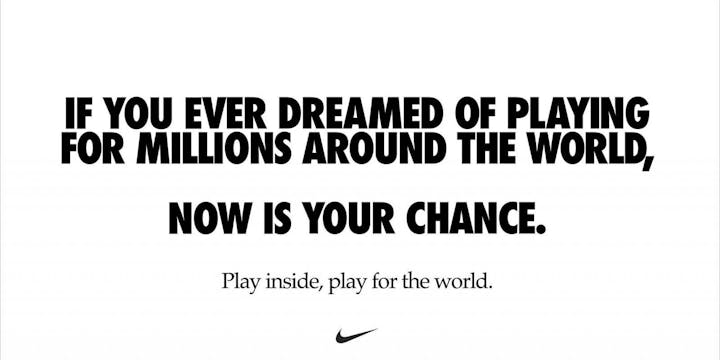 The post was supported with commitments to health and fitness during the pandemic via the brand's Training Club app, as well as financial support.
"Optimism and courage are two of the characteristics that define the world of sport," read a company release. "At Nike, we continue to be inspired by the ways people make sport a daily habit, even in the most challenging of times."
"While, right now, athletes may not be able to play together or before millions of fans, they can unite and stand for something bigger by staying home and playing for the world."
Committed brands, such as Nike, help us make sense of the world, unite and give purpose.

SEEN is compiled by LOVE's Head of Culture, Kat Towers. Want to say hello, ask questions or challenge her cultural knowledge? Get in touch - kattowers@lovecreative.com