3x CREATIVE WAYS OF TURNING WASTE TO NEW
Recently, there's been a wave of waste-to-new. Brands are no longer just filling shelves with new 'eco-conscious' products, but instead creating something meaningful out of the mountains of waste that the population produces yearly.
But this isn't just a sustainability solution, it's a way for brands to really show their worth and prove they're not only planet-conscious, but both innovative and business-savvy too. It's a chance to stake their claim on an over saturated market and make sustainability plays that are, well, more creative.
From vodka made using leftover milk, to earrings born from the ashes of asbestos, these are our favourite brands creating sustainable gold from waste materials.
1. CAPTURED CARBON UNLEASHES CREATIVITY
Nothing says sustainability like creating with carbon emissions. Captured carbon is now proving to be one of the more popular ways to use waste – allowing brands to make innovative 'new' products while also doing some good.
The perfect example comes from CleanO2 who, in a somewhat ironic twist, is creating what may well be the cleanest product to come from carbon: soap. Designed to keep both the planet and people clean, CleanO2 cleverly uses captured greenhouse gases to make soap bars, liquids and laundry treatments.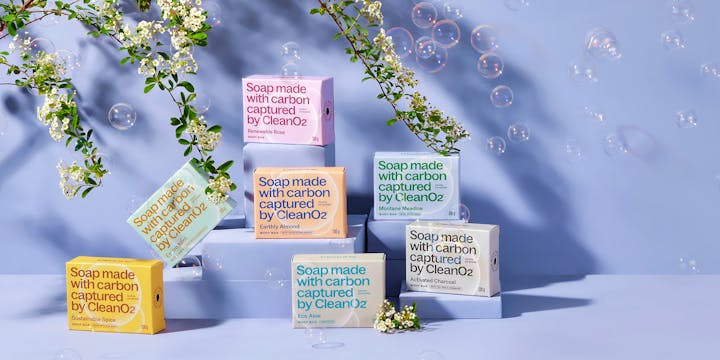 Using a "revolutionary" device dubbed CarbinX, the brand takes captured carbon dioxide emissions from building heating systems and turns them into non-toxic pearl ash, putting the physical potassium carbonate into their soaps. The result is a series of sleek looking products that form worthy opponents for mainstream beauty brands.
And they're not the only ones getting creative with carbon swaps. On Running is the brand committed to stamping out greenhouse gases by making running shoes from emissions caught before they managed to reach the atmosphere. Created using CleanCloud, a first-of-its-kind high performance foam, each of the brand's products are fossil-free and engineered for circularity.
2. ASBESTOS RISES FROM THE ASHES
We've spent decades trying to rid homes and buildings of Asbestos. And yet one French jewellery brand is doing their best to bring Asbestos back– by using the material as a base for their new range of necklaces, brooches and earrings.
Boucheron's new collection features gold, diamonds and Cofalit – a black substance made by taking hazardous industrial waste and making it safe by cranking the heat up to 1400 degrees. It's an idea fronted by artistic director Claire Choisne who, since joining the brand, has dabbled in upcycling other unique materials including denim resin and Aerogel – a material composed of 99.8% air, also used by NASA to capture stardust.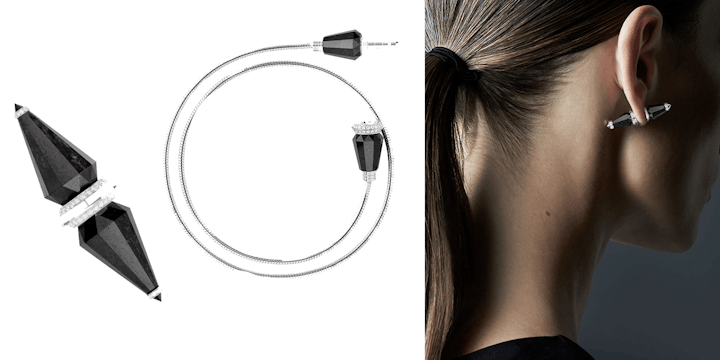 Speaking about the new collection, Choisne echoed the sentiments of designer Bernard Schobinger, the Swiss jewellery designer who uses discarded objects in his works. She said:"Valuing what no longer has any other use, what we call a "leftover material", allows me to question the notion of what is precious… This radical approach is a micro gesture for the planet [but] obviously it will not save it".
3. FOOD WASTE COOKS UP SOMETHING NEW
Every year, around 2.5 billion tonnes of food is wasted across the world. Thankfully, there are a handful of companies dedicated to creating products solely made from leftovers.
Black Cow Vodka is a cheese farm-based distillery which takes leftover milk from their grazed grass cows and turns it into a grain-free spirit. The idea is that, by shunning grain in favour of whey, less water is used, and less CO2 is produced.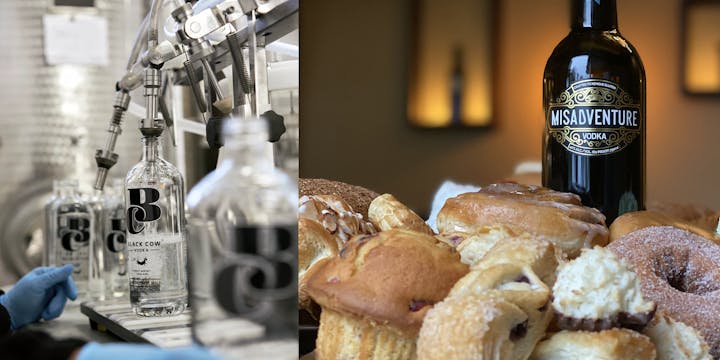 Similarly, San Diego-based Misadventure Vodka has been upcycling leftover bread and pastries since 2017 to create their liquid. With the mantra that you can "have your cake and drink it too", the brand has gone on to become the world's first carbon negative consumer good, and the only spirit made from excess baked goods – a huge, albeit slightly niche claim.
So, brands take note: while they might seem like a drop in the (polluted) ocean, it's small plays like these that may see big changes in our planet's wellbeing. Here's hoping more brands keep fighting the good fight.
Words by Emma Cocker, Copywriter.
SEEN is our monthly-ish 3x3 newsletter about brands, trends and creativity. Subscribe by getting in touch here: hello@lovecreative.com.