3x EXPERIENTIAL TRENDS FOR 2023
2022 was a big year for spatial. We saw the likes of Balenciaga's Pink Fur, Louis Vuitton's 200 Trunks and who could forget Le Bleu, by Jacquemus? As a new year begins, we're left wondering how the experiential world could continue to elevate.
For an insight, we've asked Russell Ashdown, Rebecca Reeves and Amy Brown from our experiential team on how they think brands will raise the bar even higher in 2023.
From a fantastical chateau to a real life Metaverse, here's their trend predictions for the year ahead…
1. A SURREAL YEAR
The surreal movement of the 1920s was fostered through a perfect storm of conditions. Uncertain times, a global pandemic, and the looming threat of war. Throw in the extra ingredients of an environmental crisis and rocky political terrain, and you've got yourself a very relatable checklist.
Sure, they might not have had vaccine passports during the 1918 influenza, and the only thing that Tik Tok-ed back then was a clock. But just like it did back in the 20s and 30s, unpredictable territory is making for fertile creative ground.
This synergy between centuries is currently being explored by the Design Museum's exhibit, 'Objects of Desire: Surrealism and Design 1924 – Today'. Curator Kathryn Johnson describes Salvador Dalí's lobster telephone as a "guest of honour" at the exhibit, "although it was made in the 30s, it still attracts such love today, we can't get enough of it".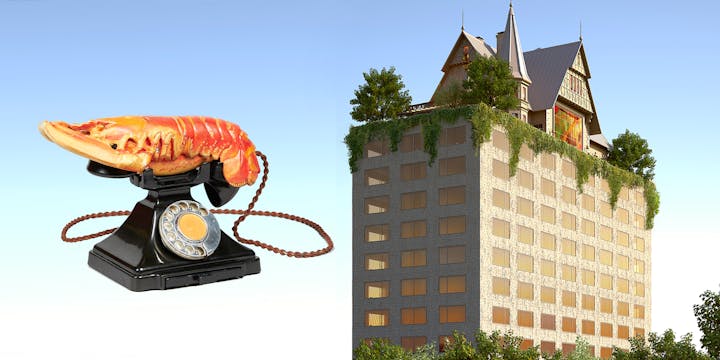 Surrealism equals strangeness. Combining images, objects, or in our case spaces, in unexpected ways. LOVE. Creative Director, Russ, thinks this movement is set to be a trend in 2023:
"Though they look starkly different, examples like Dalí's lobster telephone and Philippe Starck's 'future forward', 'phantasmagoric' hotel are doing the same thing— smashing two completely unrelated things together in order to create a new reality.
"The hotel and the phone are the same reaction to similar worlds. To keep up with this cultural climate, we need to play with new ideas that challenge imposed values and norms."
2. BRANDS GET ARTISTIC
When you're picking up a call on a lobster telephone, you can hardly answer in jeans and a nice top. Last year i-D magazine asked, 'Do surreal times call for surreal dressing?'. According to Senior Creative Rebecca, they certainly do.
Fashion stores are beginning to tell stories. As noted by Rebecca, "a quick look at Jacquemus oversized toaster, BAPE's new gallery in Beijing or collabs like Daniel Arsham x Billionaire Boys Club, is enough to tell you brands are putting less pressure on selling and more focus on staying relevant and communicating with their customers."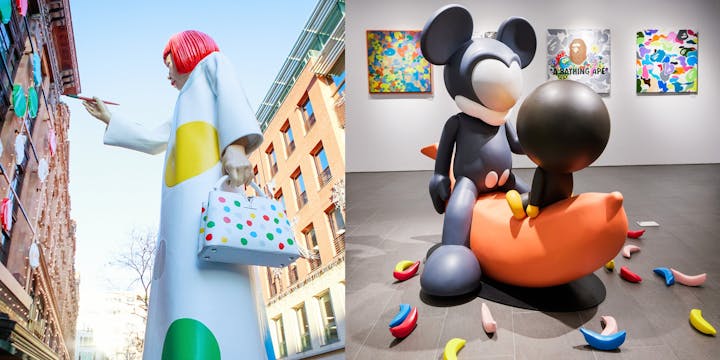 Bringing the escapism that art offers to life in the retail world is a great way to re-frame, and strengthen, the connection between brands and customers. By blurring the boundaries between art and fashion, brands can enter new spaces and play in new worlds.
The bitter taste of dry January has barely left our mouths and yet some brands have already cracked this 2023 trend. One glimpse of Louis Vuitton's collaboration with Yayoi Kusama and you instantly want to see the exhibit for yourself. Similarly, Gucci Vault's experiences feel so akin to an immersive gallery that you almost forget their objective is to sell.
3. THE METAVERSE GETS REAL
When surrealism seems to have reached a pixelated peak, the only way to journey on might be by giving a nod to normalcy.
We expect brands will accept this reality by bringing the Metaverse back to life, so to speak. Amy, Design Director, says, "brands will continue to borrow design, language and aesthetics from the Metaverse we know, but in forms we're less familiar with. They will translate the Metaverse into real, interactive experiences, creating hybrid digital and hyper-physical spaces".
Aesthetic wise, think exaggerated, colourful, or sculptural forms and unexpected insertions within spaces. The experiences may even be as simple as playing with online consumer behaviours, like eBay's Luxury Exchange in NYC where customers could have their designer items valued in store and then sold for a second life.
Words by Caitlin Coyle, Junior Copywriter.
SEEN is our monthly-ish 3x3 newsletter about brands, trends and creativity. Subscribe by getting in touch here: hello@lovecreative.com.