3x Fan-powered F&B launches   
If you read last month's SEEN, you'll know we've been doing A LOT of lockdown snacking. The reopening of gyms on April 12th really can't come soon enough, because we've just enjoyed yet another month of unignorable (thanks to their fans) food and drink launches. Here are three more we can't get enough of.
1. Travis Scott's Cacti Agave Spiked Seltzer
Last year, rapper/one-man-brand Travis Scott dominated culture with his internet-breaking virtual concert in Fortnite, partnered with McDonald's for a limited meal and merch deal, and created a hype-luxe candle and fragrance with Byredo. Now he's joining the hard seltzer race.
Scott has collaborated with AB InBev to create CACTI Agave Spiked Seltzer, inspired by his love of tequila. "I sought to create a beverage brand that was unlike others in the market," Scott explained. "Our Agave Spiked Seltzer is super refreshing and smooth, and the brand in general is something that I'm super proud of. We built this project from the ground up together and this is just the beginning."
The 7% ABV seltzer made with 100% premium blue agave from Mexico has launched in three flavors: Pineapple, Strawberry & Lime.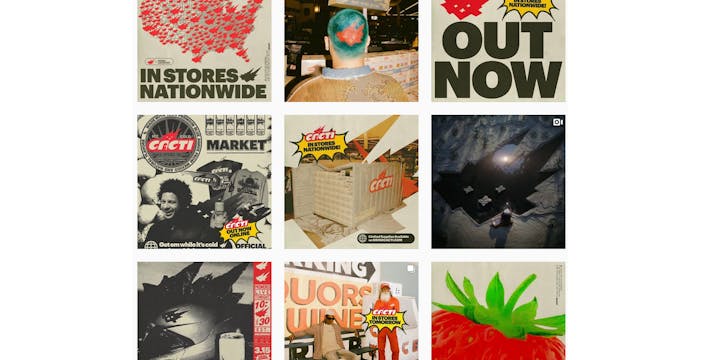 With no expense spared, Scott took out a flagship ad spot during the 2021 Grammys to introduce his beverage. Harnessing the incredible power of his fandom and an impeccable social feed (this is the art of perfecting scroll science > shelf science), the nationwide launch in 20,000+ locations sold out in less than 24 hours.
According to a report, "thousands of locations" saw their stocks instantly depleted by fans of La Flame and AB InBev reported that its initial inventory was gone in less than 12 hours. Locations have also requested restocks as CACTI overtook the weekly total sales of all hard seltzer brands in the market in just one day.
Younger drinkers were driving the hard seltzer trend pre-pandemic, and it hasn't slowed down. While White Claw continue to expand their flavour range and presence outside the US, it seems fans can't get enough of the taste of Cactus Jack.
2. PIZZA HUT x PAC-MAN
Run DMC and Aerosmith, George Michael and Aretha Franklin, Kylie Minogue and Jason Donavan - the 80s was the era of collaboration. Now, in a harmonious paring of two cult brands, Pizza Hut and PAC-MAN have paid homage to the nostalgic experience of playing arcade games at the pizza parlour.
Tapping into collective memories of the 80s and returning fans to their cherished youthful years, the fast-food giant's limited edition pizza box displays a graphic from one of the game's maze stages. Celebrating new technology and retro gaming, fans will also be able to play an AR version of the game and share their scores via Twitter.
Nostalgia can be a successful marketing tool for many reasons. Research shows that the brain's feel-good chemicals (dopamine, serotonin and oxytocin), are activated at higher levels between the ages of 12 and 22, which is why we often feel a powerful yearning for our teenage and early adult years.
3. OREO x NBA
Our final F&B fan favourite launch is Oreo x NBA, the first release in the NBA's recent announcement of a multi-year partnership with Mondelez.
Esports have received a huge amount of interest lately when it comes to brand collaborations, but let's not forget that real-life sports fans are known to be some of the most dedicated and vocal of all, so we're excited to see something catering to their passions.
These limited edition "NBA Dynasty Oreos" feature the iconic chocolate wafer embossed with some of basketball's greatest franchises, from the Boston Celtics and the Chicago Bulls to the LA Lakers and more.
This slam-dunk of a collab is set to release later this month, with more collaborative items to come.
SEEN is compiled by LOVE's Head of Culture, Kat Towers. Want to say hello, ask questions or challenge her cultural knowledge? Get in touch - kattowers@lovecreative.com