3 x Food brands leaning into culture
'Shelf science' is no longer the only marker when it comes to FMCG brands standing out from the crowd. Those who consider the scroll science (is my brand and product interesting enough for today's consumer? Is it going to catch their attention on their feed?) as well as the social science (what is the role of my brand in the world today?) are winning out.

From rebooting ice cream's racist past to high x low collabs in the art world, we look at three brands leaning into culture this month.
1. Good Humor x RZA
Unilever ice cream brand Good Humor is celebrating its 100th anniversary with a much needed tune-up for ice cream trucks everywhere, thanks to a new jingle composed by legendary music producer RZA of the Wu-Tang Clan.
2020 has sparked global conversations around social injustice and a long overdue audit of behaviours, phrases and products with racist undertones, including within the food industry.
'Turkey in the Straw', a 200-year-old song with racist roots that first became popular in minstrel shows, can still be heard in ice cream trucks today. While Good Humor did not create 'Turkey in the Straw', the brand is using its influence to acknowledge the song's history, educate drivers and fans, and help the ice cream truck industry remove it from use.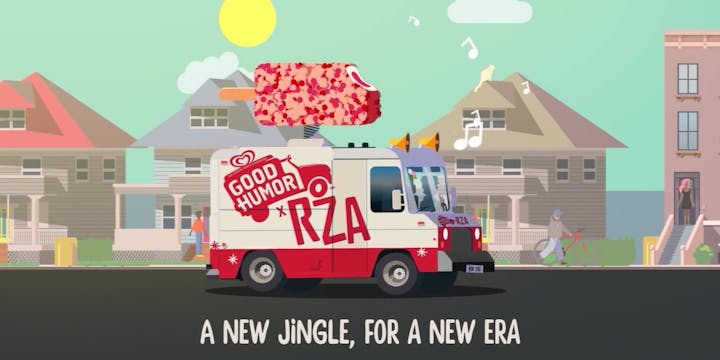 "Good Humor invented the ice cream truck and is the maker of some of today's most iconic ice cream truck treats. And while we have not owned ice cream trucks since 1976, we wanted to be part of the solution and offer ice cream truck drivers a jingle that can bring joy to every community," said Russel Lilly, Senior Director of Ice-Cream at Unilever. "So, to create a new jingle, we knew we had to team up with the mastermind behind some of the most memorable melodies of our time."
RZA added: "We wanted to make a melody that includes all communities, that's good for every driver, every kid. I'm proud to say, for the first time in a long time, a new ice cream truck jingle will be made available to trucks all across the country and perpetuity. That means forever, you know what I mean? Like Wu-Tang's forever."
Good Humor said in a statement that it is now "calling on all drivers to stop playing 'Turkey in the Straw' immediately". They have released the song as a free download for every ice cream truck to use.
2. Hellmann's x Animal Crossing
Another foodie brand feeling its way into culture is Hellmann's. The mayonnaise brand has teamed up with Animal Crossing to educate young gamers about food waste.
Brands are getting creative in how they market inside video games like Animal Crossing, and Hellmann's Canada is the latest to get in on it. They've created a virtual island to convert "digital food waste" into charitable donations for real people in need.
On the island, players can drop off "spoiled" digital turnips and for each one donated, Hellmann's plans on donating one actual meal to Second Harvest. Their target is to reach 25,000 meals and users can visit the island by first sending a DM to @HellmannsCanada on Twitter.
3. KFC x National Gallery
We've seen KFC make headlines in recent years with fashion-forward collaborations from 'bucket' hats to BAPE, Human-Made to Crocs. Now they're dipping their wings into the art world, launching a surprising collaboration with the National Gallery in China.
This link-up sees the gallery license Impressionist artwork wrapped around family buckets and ice creams, in a bid to win the attention of new audiences.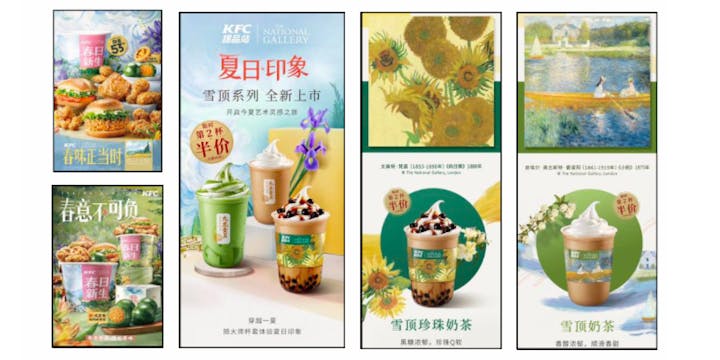 There are more than 5,800 KFC restaurants in over 1,200 cities in China, with a loyalty base of over 180 million members. "We are continuing to expand significantly to new audiences in China," says Judith Mather, buying and merchandising director, National Gallery Company. "Through this collaboration we are able to raise awareness of how relevant and flexible images of our world-famous paintings can be for youth and young adult markets."
Carrie Gong, VP of Alfilo Brands, added: "As the National Gallery master licensee in Greater China, Alfilo is pleased to have formed the collaboration with KFC. We brought Impressionist masterpieces to the dining table; people can enjoy art visually while having their meals. Additionally, bringing art into people's daily lives through their favourite restaurant has helped provide some comfort during the pandemic."
We're not sure what Van Gogh would think about his work being plastered around a KFC six piece, but as far as high x low collabs go, we're here for it. Why not?
In a world where the ability to cut through using traditional paid-for-media is an increasing struggle, brands should look to rewire their approach and think about using the pack as the media itself.
Packaging is prime media real estate – and something you, as brands, have control over. It's your walking, talking POV on the world. Let's consider something more than just shelf science. Let's consider if what we're creating is actually interesting to our culture-hungry consumers.
Whether you make a connection by celebrating an iconic moment in culture on pack, or using your packaging as a canvas to reach new audiences, a culture-first approach is all about amplifying from the pack out, rather than comms in.
SEEN is compiled by LOVE's Head of Culture, Kat Towers. Want to say hello, ask questions or challenge her cultural knowledge? Get in touch - kattowers@lovecreative.com