3 x Hot Booze Collabs for the Summer
Summer's finally here and that means one thing: whether it's an oversubscribed roof terrace or a backstreet beer garden, many of us will be out enjoying a tipple or two. Responsibly, of course. So here are three booze partnerships we're loving this month, from all-star partnerships in premium spirits to lip-smacking hyper-local collaborations.
1. Hennessy x NBA
Hennessy and the National Basketball Association have announced a multi-year partnership to make Hennessy the official spirit of the NBA, Women's National Basketball Association (WNBA), and USA Basketball.
"We are honoured by the distinction as the first global spirit partner in the NBA's history," said Julie Nollet, global chief marketing officer at Hennessey.
"The NBA is more than basketball and Hennessy is more than cognac. We represent global communities. This partnership empowers us to support a game and culture that brings people together through entertainment and camaraderie despite the current challenges faced by fans around the world."
Through the partnership, Hennessy aims to elevate the fan experience of the NBA, WNBA and USA Basketball by providing access to games, players and cultural events, as well as creating and commemorating special stories and activations that highlight the brand's 'Never stop. Never settle' ethos.
From Bondi Icebergs pool activations, 'All Star' Hennessy cocktail upgrades and sneaker customisation labs to limited edition VS and VSOP bottles, we can't wait to see how this collaboration pushes Hennessy into more interesting cultural spaces.
2. Veuve Clicquot x K-Way
Masters of playful luxury Veuve Clicquot have a strong track record when it comes to covetable limited editions and value-added packs. Their special drops always bring best-in-class design credentials and heavy doses of gift appeal.
Collaboration is proving to be Veuve's favourite game as they follow the stunning partnership with contemporary artist Yayoi Kusama by teaming up with legendary windbreaker brand K-Way.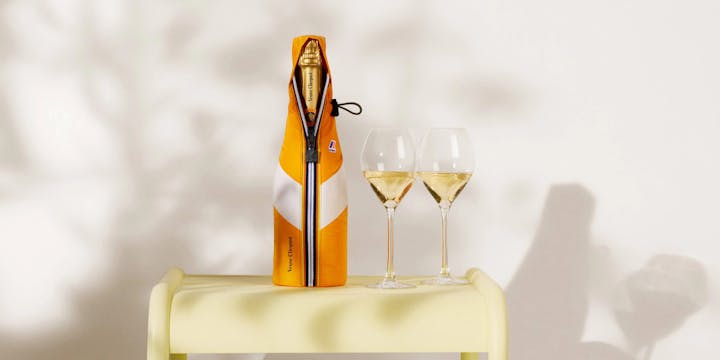 As the weather hots up and restrictions continue to ease (pending), more of us will be venturing out of the house and looking for interesting ways to host outdoors. Veuve Clicquot's reinvention of their iconic neoprene ice jacket means that luxury-loving consumers can chill and serve in style. Beyond looking cute, the K-Way ice jacket has a very practical remit – it keeps your champagne cool for up to two hours.
According to the press release: "Veuve Clicquot has brought bigger, brighter joy to countless outdoor occasions. Likewise, K-Way has helped generations seize the day whatever the weather. Together we bring you this unique fashion limited-edition Clicquot Ice Jacket."
3. Northern Monk x Seabrook Crisps
To celebrate our long-awaited return to pubs and beer gardens, here's a dream (or maybe nightmare) collab straight out of West Yorkshire. Leeds-based brewer Northern Monk and Bradford crisp maker Seabrook have joined forces to create cheese & onion and prawn cocktail crisp-inspired beers.
Commenting on the unique flavour profile of his latest creations, Northern Monk founder Russell Bisset said: "After one of the most challenging periods in recent history, we decided to take this quest into uncharted territory, creating an experience that would make people laugh – or grimace actually – as lockdown lifts."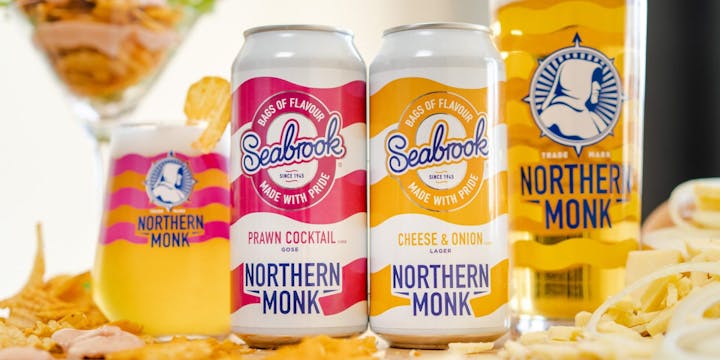 The recipe combines a base beer with actual Seabrook crisp flavouring. The Cheese & Onion Lager is a 5.4% lager described as having a "distinct aroma" with "notes of cheese and onion". According to Northern Monk, it leaves you "with the aftertaste of just having finished your favourite packet of crisps". The Prawn Cocktail Gose is a 5% sour beer that "brings with it the tang of prawn cocktail" and finishes with "a distinct saltiness".
Pushing the boundaries of what beer can be, these limited editions – priced at £3.50 per can – quickly sold out. A pint and a packet of crisps remains an unbeatable combo.
SEEN is compiled by LOVE's Head of Culture, Kat Towers. Want to say hello, ask questions or challenge her cultural knowledge? Get in touch - kattowers@lovecreative.com