3 x Inventive brand collabs we're loving
From nostalgic pop-ups to social-first retail and the hype end of beauty, here are three collaborations on everyone's lips (and feeds) this month.
1. Blockbuster x Airbnb
Airbnb have partnered with the last Blockbuster location in the world (located in Bend, Oregon) to throw a 90s-themed sleepover for nostalgia lovers. Starting next month, up to four guests can rent the store for a limited time for only $4.
True to Airbnb's history of hosting 'sleepovers' in iconic locations, the execution is once again on point. The store has been meticulously transformed into a 90s living room complete with pull-out couch, bean bags, unlimited snacks and drinks and, of course, classic 90s movies.
Renters will have the space completely to themselves, and everything will be carefully cleaned between visits. According to Blockbuster's manager, they came up with the idea to show appreciation for their local community, who have helped keep them in business during the pandemic. Post-sleepovers, the living room set-up will remain open for a short time and customers will have the chance to see it during regular store hours.
2. Supreme x Everyone
Streetwear heavyweight Supreme is known for its many collaborations. The brand has partnered up with some of the biggest brands in the world, including Louis Vuitton, Nike and more, as well as dropping unexpected releases with Oreo and Stern Pinball Machine.
Now, for its latest release, the label has joined forces with makeup artist and entrepreneur Pat McGrath.
Inspired by Supreme's signature red, the packaging sees the unmistakable Pat McGrath Labs silhouette combined with the streetwear label's bold logo. The lipstick itself, as you would expect, is the same iconic red hue. This is Supreme's first ever beauty collab and is sure to be on everyone's lips – if you can get hold of it that is.
Supreme is a well-oiled machine. Their combination of 'control' (limited drops), 'cool' (their cult status created through lack of engagement with mainstream media and trade shows) and 'collaborations' (within pop culture) sets the bar when it comes to delivering 'hype'.
Alongside the Pat McGrath lipstick, Supreme are also releasing a limited edition Supreme Chucky doll. Next in line to get the 'Oreo fame' treatment is Colgate, with their super normcore co-branded Cavity Protection toothpaste. All these items will inevitably sell out – and then appear on resale sites, of course.
3. Burberry x WeChat
Burberry has launched a social retail shopping concept in Shenzhen, developed in collaboration with WeChat. The project integrates gaming, social media and e-commerce into a bricks and mortar environment.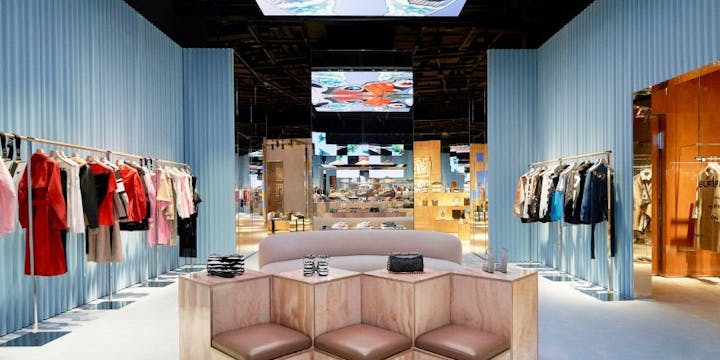 These elements allow customers to book fitting rooms, virtually pre-select clothes to try on, and make appointments with stylists. To encourage engagement, the WeChat program also includes a reward system based on use and visits to the store, which earns users social currency to unlock content such as custom Burberry outfits for their digital avatars.
"Social media is an increasingly important part of the customer journey and the interaction between social media and physical surroundings is ever more seamless," explains Mark Morris, senior vice president of digital at Burberry. "Our social retail store in Shenzhen is our response to this. It is a space where the social and physical worlds merge, taking interactions from social media and bringing them into the physical retail environment."
Retailers are increasingly digitising their physical stores to create more seamless, curated and often playful experiences for their customers.
SEEN is compiled by LOVE's Head of Culture, Kat Towers. Want to say hello, ask questions or challenge her cultural knowledge? Get in touch - kattowers@lovecreative.com