3x LUXURY BRAND EXHIBITIONS DRAWING FROM THE ART WORLD
If life imitates art, can brands?
Luxury brands are often given icon status, setting retail prices that rival those of fine art, or establishing cult followings that are willing to camp overnight just to get a first look at new releases.
But would those same people line up to see these brands if they were in a museum? If Louis Vuitton bags lined the halls of the Louvre? After Tiffany & Co's recent 'Vision & Virtuosity' exhibition secured over 700 pieces of coverage, we think the answer might be yes.
Whether they're following Tiffany's lead or joining a wider trend, brands are beginning to align themselves more and more with the art world by creating their own exhibitions. And with two of the below exhibitions happening just days apart from each other, we can't deny luxury brand exhibitions are having a moment.
1. LOUIS VUITTON'S '200 TRUNKS, 200 VISIONARIES'
After setting up foundations, partnerships, and collaborations (who could forget Takashi Murakami's iconic multicolour monogram?), it's fair to say Louis Vuitton isn't entirely new to the art world.
And if one artist's work could be called 'a defining moment for the sector', Louis Vuitton might have asked what then could 200 artists do? '200 Trunks, 200 Visionaries' answers exactly that.
The career of Louis Vuitton himself began as a trunk-maker for the wife of Napoleon III, Empress Eugénie de Montijo. So, celebrating 200 years since the French Designer's birth with an exhibition of 200 trunks seems like a pretty good way to pay homage to the man that started it all.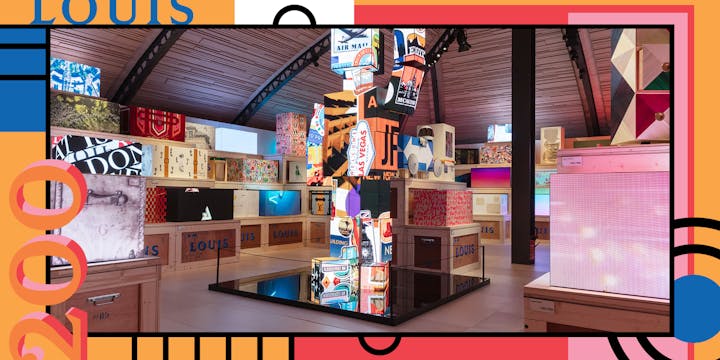 The exhibition captured the minds of 200 artists, commissioning them to re-imagine Louis Vuitton's iconic trunk design in their own unique way. Benefiting from carte blanche, the showcase was "a real tribute to Louis's ingenuity and entrepreneurial spirit" according to Louis Vuitton Visual Image Director, Faye McLeod.
Choosing trunks as the muse for a travelling expedition—journeying from the Louis Vuitton Family Home in Asnières to Singapore, before moving to LA and the Barney's building in NYC—presented travel itself as a key theme for the exhibition.
The showcase's notion of travel aligns with what Vogue's Laird Borrelli-Persson refers to as "expeditions of the imagination", transforming the exhibition into a spectacle of how far imagination can transport a brand.
2. VEUVE CLICQUOT'S 'SOLAIRE CULTURE'
To mark their 250th anniversary, Veuve Clicquot celebrated their brand values with an all-female art exhibition that 'seamlessly' bottled 'over two and a half centuries into one art show'.
Opening in Tokyo before travelling to Rodeo Drive, LA, their 'Solaire Culture' exhibition united ten female artists in a fitting tribute to Madame Clicquot's legacy of female boldness.
Re-energising the creative world Veuve Clicquot has found itself at the centre of since the 19th century, the exhibit used art to display its cultural influence.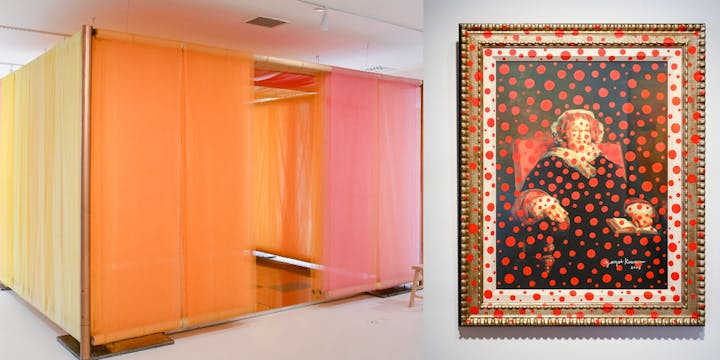 Polka-dot portraits from Kusama featured alongside hand-painted, limited edition floral sculptures, reflecting what CEO Jean-Marc Gallot called Veuve Clicquot's "capacity to dream big and constantly innovate" through the eyes and minds of the ten artists.
Using art to express Veuve Clicquot's ability to adapt with the times really exemplifies how brands can achieve such impressive longevity. And by paralleling their brand strategy and transforming the iconic assets that put them on the map, the exhibit's bold and modern adaptations give an insight into how they have remained inspiring market leaders.
3. MONCLER'S 'THE EXTRAORDINARY EXPEDITION'
Known for their signature alpine aesthetic, Moncler's recent exhibition transported its audience beyond visuals and into the mountains.
In honour of their 70th anniversary, re-imagined gallery spaces in New York, London, and Seoul were transformed to expedition entrances. From here, visitors were taken on a 360-degree journey of alpine sounds, sights, and simulations.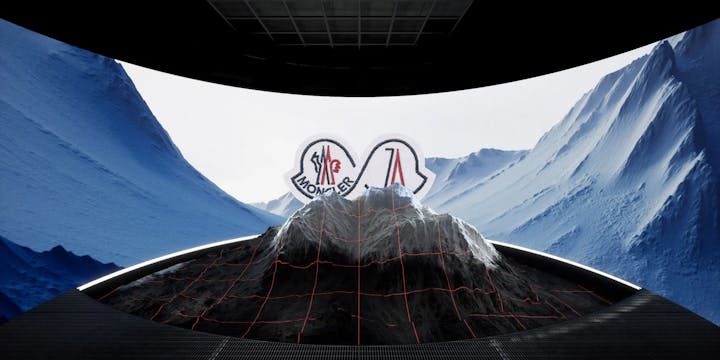 Honouring the brand's journey with this new expedition, the exhibition showcased the heritage, signature aesthetic and key moments in Moncler's history, presenting the past to spark the imaginations guiding the brand's future.
According to Virgil Abloh's 'three percent rule', changing an existing item in any way, even just by three percent, is enough for it to become a new creation entirely. Like the other exhibits, Moncler might not have introduced completely new lines, but by re-imagining existing products or even just presenting them in a different way, each exhibit has become an iconic moment in the histories of these luxury brands.
Words by Caitlin Coyle, Junior Copywriter.
SEEN is our monthly-ish 3x3 newsletter about brands, trends and creativity. Subscribe by getting in touch here: hello@lovecreative.com.