3 x Luxury retail experiences with a difference
After a summer on shutdown, retailers are going all-out to deliver the ultimate in playful and unexpected luxury experiences. From Champagne bars to bringing beauty to the suburbs and hidden experiences for those in the know, here are three activations and trends doing it right.
1. Harrods go all-in on beauty
Iconic luxury department store Harrods is heading for the suburbs to open its first dedicated beauty concept, H Beauty.
The new store will house 80 of the 250 brands that Harrods stocks in its Knightsbridge flagship, but with its own muted blush pink visual identity, rather than the signature Harrods forest green.
H Beauty will launch at Intu Lakeside in Essex and Intu in Milton Keynes. While customer traffic in the flagship store is heavily dominated by tourists, older consumers and the super-elite, this move introduces a new iteration of the brand to a younger, regional consumer.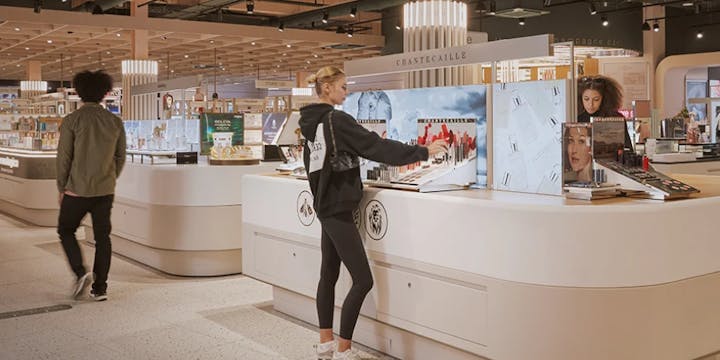 H Beauty aims to put exclusivity, innovation and experiences at the heart of its offering, something we see very little of in regional locations. The store will retail classic high-end brands like Chanel next to cult beauty upstarts like Huda Beauty and include makeup stations, virtual try-on mirrors and masterclasses.
We've seen luxury retailer Selfridges, already well-established beyond London with stores in Birmingham and Manchester, completely rehaul their beauty floors in recent years, creating a much more buzzy experience for beauty-loving consumers – "Sephorafication", for want of a better term.
The younger focus at H beauty is emphasised through a new UK-wide Harrods campaign, My Beauty, that uses street-cast models and focuses on celebrating individuality.
2. Whisper Retail
With exciting physical retail experiences curtailed by the pandemic, some brands are driving desire through secretive stores. These brand, product and retail experiences are open to all, but hidden away from public view and social media so that only those with a tip-off – or the ability to seek them out – can find them.
In this new era of exclusivity, there is no membership fee or dress code. Instead, the cultural currency is knowledge and access, discovered by word of mouth.
The 'whisper retail' trend has been pioneered by high-end fashion retailers such as L'Eclaireur in Paris, which is hidden behind a plain door with no external signage.
You'll find streetwear brand Bodega's LA store situated in the Produce District, behind a fruit packing warehouse that opens out to an airy yet curios-filled retail space.
Access sits at the heart of these stores – they are open to anyone and everyone. The idea is that when consumers have to actively seek out a space, it adds a new layer to brand desirability.
It doesn't need to be a physical space either. Brands are launching exclusive content within video games and creating specific locations, albeit virtual ones, where anyone in the world can visit. Again, you just have to know how to find them.
3. Moët & Chandon x Selfridges
Last year, LOVE teamed up with Veuve Clicquot to create 'Le Tram', a Champagne bar masquerading as a vintage tram, parked inside Selfridges' flagship London store. This time, using the same space, we worked with Moët & Chandon to create a world of Champagne luxury inspired by London-centric glamour.
'London Calling' is where a true London icon meets Moët & Chandon's famous savoir faire, with the classic telephone box reimagined as an intimate champagne bar. It's place for shoppers to relax, recharge and experience Moët & Chandon, surrounded by playful brand storytelling throughout.
With personalisation weaved into the concept, the packs themselves were used throughout the space to display names of iconic Londoners.
When it comes to activating in Selfridges, the creative benchmark is always high – creating cut-through, delivering on retailtainment and making it social media-friendly are all musts.
Design by LOVE. Production by Harlequin Design (London).
SEEN is compiled by LOVE's Head of Culture, Kat Towers. Want to say hello, ask questions or challenge her cultural knowledge? Get in touch - kattowers@lovecreative.com