3x Reasons Why The Collab Isn't Dead
Just when you'd convinced yourself that collaboration culture was heading down a creative cul-de-sac. That brands were running out of ideas and consumers were getting tired of the irony, the nostalgia, the price tags. Just at that very moment, a series of blockbuster collabs arrive to prove you totally, utterly, shamefully wrong.
These latest collabs are perfect examples of the art form. So good, they transcend mere hype generation to reveal previously hidden nuances of the famous brands in question. Collabs anchored by an undeniable creative chemistry, enabling designers to shoot for the stars. Collabs that crash websites, spark cultural debates and leave competitors scrambling to keep up. And shift shedloads of product.
The brand x brand equation isn't dead yet. Here's why:
1. ADIDAS X GUCCI
Already hailed by hype-watchers as the collab of the year, Adidas and Gucci's first joint collection dropped in June following a tantalising preview at Milan Fashion Week in February.
Like many successful collabs, this partnership seems enriched by a genuine creative affinity – Gucci creative director Alessandro Michele is a self-proclaimed Adidas nut and has the collection of Gazelle trainers to prove it. Unsurprisingly, Gucci-fied versions of that footwear classic feature heavily in the collection, which exudes an irresistibly nostalgic sporting glamour and has a lot of fun blending the two brands' iconic codes through interlocking emblems and other cross-bred applications.
Gucci went back to the top of shopping app Lyst's hottest brand ranking shortly after the collection dropped (ending Balenciaga's nine-month stint at the summit), with searches for Gucci jumping 286% in the first 48 hours.
2. NIKE X JACQUEMUS
Cult womenswear label Jacquemus super-charged its unstoppable rise by teaming up with Nike this summer. The two brands' joint collection arguably ran a very close second to Adi-Gucci in the hype stakes, aided by a campaign fronted by Jorja Smith and a spectacular launch show among the Camargue salt mountains of southern France.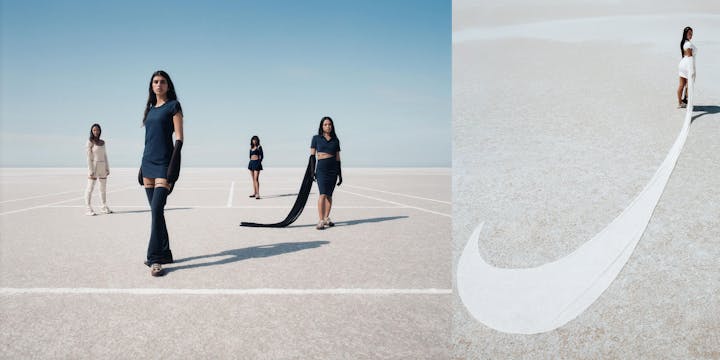 Again, the collab is rooted in a personal passion, takes inspiration from vintage sportswear and locks in on a particular piece of footwear – in this case, a refined take on the slightly slept-on Humara shoe from Nike's ACG line.
"I wanted to create a collection that reinterprets athletic women's sportswear in a minimal way," explained Simon Porte Jacquemus. "I have always been inspired by vintage ACG pieces and Nike campaigns from the '90s. Having this imagery in mind, we designed women's athletic wear with sensuous details and neutral colours." This collab's two initial drops sold out online almost instantly, leaving hypebeasts hoping Simon and the Swoosh hook up again soon.
3. PRIMARK X GREGGS
Time for some real mega-brands. Primark and Greggs, behemoths of the UK high street both, are back with a second clothing collaboration.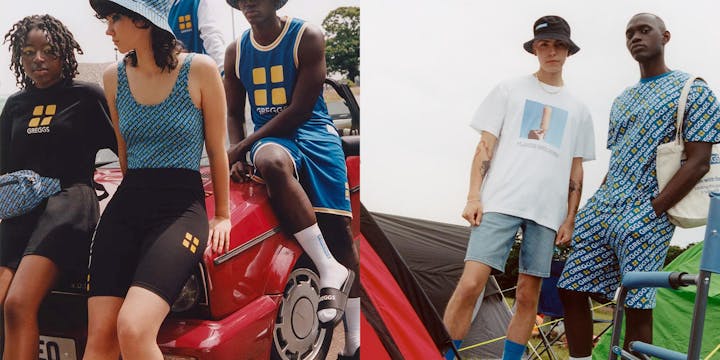 The first drop, launched in February, featured sausage roll socks and hoodies adorned with the Greggs logo. Now the two brands have unleashed a more expansive summer collection full of "tasty festival fits" including Greggs bucket hats, Greggs cycling shorts and the absolutely show-stopping Greggs varsity jacket.
You don't often see a British bakery chain mentioned alongside the likes of Balenciaga and Vetements, but you could view this collab as a refreshingly British take on the kind of playful irony perfected by those high-end labels in recent years (e.g. the famous/infamous Vetements DHL T-shirt).
Alternatively, perhaps the hype is simply driven by our genuine love for the purveyor of steak bakes and vegan sausage rolls. As Matt Poile, deputy foresight editor at The Future Laboratory, told the Guardian: "It works because British culture has a soft spot for Greggs."
Words by Matt Duxbury, Senior Copywriter.
SEEN is our monthly-ish 3x3 newsletter about brands, trends and creativity. Subscribe by getting in touch here: hello@lovecreative.com.