3 x Standout packaging launches we're loving
Designed to launch new products, give old products new life or straight-up save the planet – here are three pieces of packaging we're loving this month.
1. Lucky Charms
At LOVE, we're as obsessive about culture as we are about your brand, so when the opportunity came to work with Lucky Charms on a new marshmallow-only pack (yes, you heard right, just the marshmallows, or 'marbits'), going all-in was a no-brainer.
Just Magical Marshmallows is something fans, and celebrities, around the world have been willing into existence for years. It's truly something for the culture, something to use up one of your three wishes on.
In recognition of this momentous occasion, it was only right that we went big on the charms, which were redesigned as flat illustrations with a soft matte finish against the metallic pouch – delivering both shelf standout and scroll standout on social media.
Senior Creative at LOVE, Helen Lazzari, said: "This felt like the ultimate 'kidult' brief for us as an agency and the consumer. How could you not have fun and create something iconic and impactful with such a playful, cult product?"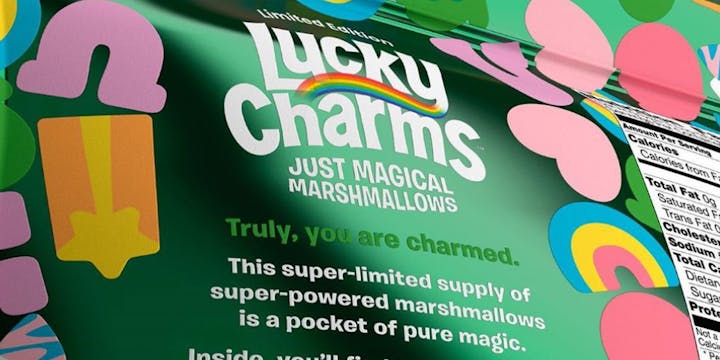 Proof of success? The packs became Lucky Charms' most-liked post, ever.
In the Instagram era, where brands can reach cult status through social media alone, packaging wields huge power. That meant getting the packs into the hands and social feeds of influential celebrities like Cardi B was a must.
The packs also made their way onto coveted hype-news outlets such as Complex, foodie titles like Delish, culture feeds including The Shaderoom and design titles such as the Dieline, as well as mainstream media like USA Today and the NY Post.

Jennifer Jorgensen, VP & Brand Director, Cereal at General Mills, said: "The team at LOVE delivered an iconic packaging design that really represents the magic of our brand. The execution is brilliant, and we're excited to see what our fans make of our new Just Magical Marshmallows!"

2. Veuve Clicquot x Yayoi Kusama
Luxury is, first and foremost, the ability to create extreme value for customers. There are a number of ways to drive value, but collaboration is proving to be a particularly fruitful method for Veuve Clicquot, the icons of playful luxury.
In partnership with world-renowned Japanese artist Yayoi Kusama, the French Champagne house have created a limited-edition gift box for La Grande Dame 2012, the signature wine named after Madame Clicquot herself.
"The opulent flower symbolises vital energy, love and celebration of life. The polka dots, Yayoi Kusama's signature patterns, are reworked like Champagne bubbles to embody La Grande Dame 2012," said the brand in a statement.
Coinciding with the limited-edition gift boxes – set to retail for $195 – are a select number of Kusama floral sculptures that fit a magnum bottle of Grande Dame, priced at $36,000.
Using the pack as the canvas, this collaboration is beautifully aligned, celebrating two iconic women in culture, both well ahead of their time. Cheers to that.
3. Seedlip's Mushroom Packaging
In a move to champion sustainable packaging options, non-alcoholic spirits brand Seedlip turned to a solution from nature for its new gifting range: mycelium.
Working with The Magical Mushroom Company, a mycelium packaging company in the UK, the brand has created packaging that is beautifully smooth and luxe on the inside, while the outside is more rustic and tactile.
The material is biodegradable and home-compostable (breaking down in soil after 45 days). Unlike trees, which take five to seven years to grow before they're used for cardboard manufacturing, mycelium takes just seven days to grow.
It's also worth noting that although mycelium is more expensive than cardboard, it is more cost-effective than heavier materials such as tin, glass and wood.
The world generates around two billion tonnes of solid waste, of which paper and cardboard are responsible for 17%. Mycelium contributes no waste whatsoever – a gamechanger.
Consumers are increasingly considering their own impact on the planet, with packaging waste at the centre of the conversation. When making purchase decisions, people are looking for brands that will help to reduce their waste footprint and consider a pack's end of life as part of the manufacturing process.
For Seedlip, a brand that believes in protecting and celebrating the natural world, the extra cost in production is worth the investment. Now that's what we call the power of packaging.
SEEN is compiled by LOVE's Head of Culture, Kat Towers. Want to say hello, ask questions or challenge her cultural knowledge? Get in touch - kattowers@lovecreative.com