3 X UNEXPECTED BRAND COLLABS WE'RE LOVING
Dupe culture, drinking with The Deadman and a collab to get any hypebeast's engine revving, here are three collabs we're loving this month.
1. BrewDog x Aldi
What started as a good-natured spat between Aldi and brewery BrewDog has resulted in a new IPA being sold at the supermarket chain.
It all began with Aldi selling a BrewDog dupe named 'ANTI Establishment IPA'. In response, BrewDog said they would launch their own new beer called 'Yaldi' (a Glaswegian slang term expressing delight, believe it or not) and claimed Tesco was interested in stocking it.
It didn't stop there. Aldi clapped back on Twitter saying BrewDog should have called it 'ALD IPA'. Then, in one of the most 'meta' collaborations in history, BrewDog only went and brewed it with the German chain now stocking it. (Are you getting all this?)
Aldi's Julie Ashfield said: "We couldn't resist stocking ALD IPA, which supports our mission to work with the UK's best independent suppliers. Plus, with customer enquiries through the roof after the conversation broke on Twitter – it really was a no-brainer to give our shoppers what they want."
BrewDog's James Watt said: "Ald IPA has been one of our favourite collaborations to date, it's definitely one no one saw coming! From a mock-up on Twitter, to being stocked at Aldi stores across the UK, the response has been incredible."
The new beer costs £1.39 for a 330ml can (4.7% ABV), with the flavour based on BrewDog's Hop Fiction recipe.
2. BMW x Kith
Streetwear has come careering into the automotive world. First Virgil Abloh partnered with Mercedes-Benz to recreate their iconic G-Wagon, now Kith have teamed up with BMW to create one of the hottest collaborations of the year.
For hypebeasts and motorheads alike, the collaboration sees the launch of an exclusive special edition version of the new BMW M4 Competition coupé, which will be limited to just 150 units worldwide.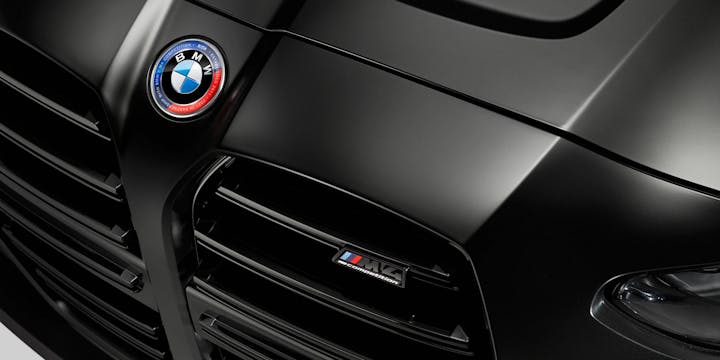 While the brand has never altered its badge, this collaboration features a new spin on the BMW logo, adding an extra ring around the roundel that reads: "KITH • ESTABLISHED 2011 • 2021 IN PARTNERSHIP WITH BMW • M4 COMPETITION". The words commemorate Kith and BMW's unique relationship; a nod to the car's delivery date in 2021 and Kith's upcoming tenth anniversary.
"Everything we work on at Kith has to come from an authentic place," said Kith founder Ronnie Fieg. "Some of my favourite memories from growing up are going to visit my grandfather and riding around in his BMWs in the 1980s. I remember he had an E21 320i and that his prized possession was an E30 M3. These moments in my life really shaped my passion for BMW, so working on this project with them has brought everything full circle."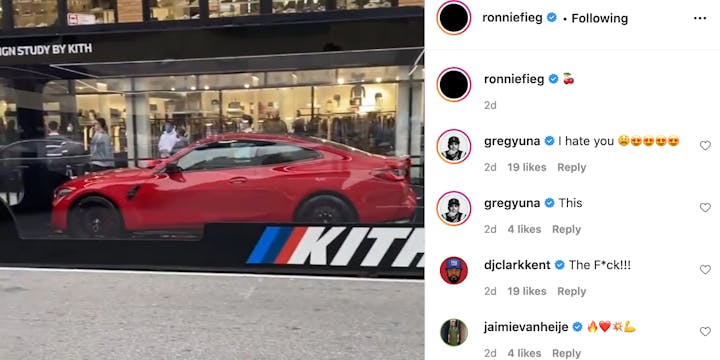 "With his ideas and Kith label, Ronnie Fieg is one of the outstanding minds and opinion leaders in the worlds of fashion, luxury and lifestyle," said Jens Thiemer, senior vice president of customer and brand at BMW. "Our collaboration with Ronnie and his influential brand will be a positive force for BMW."
For those who don't have a license to get behind the wheel, Kith and BMW are dropping a line of apparel just as limited as the collaborative M4, with just 150 units of each product being released.
3. WWE x Wines That Rock
Our third collaboration is a mash-up of cultures where WWE tag teams Wines That Rock, to produce wines inspired by WWE Hall of Famer The Ultimate Warrior and The Undertaker.
The Ultimate Warrior was one of the most iconic superstars in WWE history and captivated audiences around the world with his distinctive ring entrances and larger than life personality. The wine blend features three unique corks produced with different images and quotes from the WWE legend, hand-filled and hand-dipped in bright neon coloured wax in homage to his signature colourway.

Meanwhile, The Undertaker Limited Edition consists of a 30-brarrel run honouring his 30-year anniversary with WWE. Each bottle is marked and numbered with the barrel it came from, and wax-dipped in his iconic purple colourways and glow-in-the-dark tombstone label.
The wines were chosen to represent each superstar's unique personality by 2020 Wine Enthusiast's '40 Under 40 Tastemaker' Andrew Nelson.
"We knew these bottles would look amazing and be perfect for collectors and fans alike but wanted the quality of the wine to ultimately be the real winner here," said Nelson. "For The Undertaker's Limited-Edition 30 Barrel Series, we used 100 percent premium Cabernet Sauvignon from Lodi, California aged in oak. For The Ultimate Warrior, we looked to Mendocino County for a high-quality, full-bodied and flavourful Zinfandel."
Wines That Rock's Senior Project Manager Heather Hudson adds: "Our collaboration with WWE has taken our creative and winemaking teams to a new level. Working together with their team to define the first two releases has been fun personified. Our goal is always to create premium, limited-edition wines that we as fans want to own."
While other booze categories are shedding their aging reputations through limited editions and unexpected collaborations, the wine world still has work to do. Our take? A little levity goes a long way for culture-hungry consumers.
SEEN is compiled by LOVE's Head of Culture, Kat Towers. Want to say hello, ask questions or challenge her cultural knowledge? Get in touch - kattowers@lovecreative.com