3 x Unmissable limited editions
The Halloween outfits are back in the closet and the Christmas build-up has officially begun. With brands looking to turn hype into big festive sales figures, 'tis the season for limited editions (yes, we went there). This means creative formats breathing fresh life into well-known products, a bit of all-out extravagance and some culturally on-point collaborations. Here are three limited drops that have already made our wish list.
1. Supersized Chanel
Chanel No. 5 has been celebrating its 100th anniversary throughout 2021. Now Chanel is seeing out the year with a bang by launching the iconic perfume's biggest bottle to date. This supersized format contains exactly 2021ml of the fragrance (digits that conveniently add up to five, Gabrielle Chanel's lucky number) and is priced at $34,000. We suppose in this instance, bigger does mean better.
The giant bottle is made entirely from Baccarat crystal and accompanied by a Baccarat crystal wand for 'precise application to the pulse point'. With only 55 bottles released, this edition is strictly for true collectors. For the rest of us, the fashion house has released a well-hyped beauty advent calendar, with gifts behind doors numbered from 5 to 31.
2. Tiffany & Co's over-the-top advent calendar
With ambitious new bosses at the helm, Tiffany & Co's new culture-forward strategy has already placed the iconic brand into the spotlight more than a few times. Now THAT controversial Basquiat painting, Equals Pi, has been reformatted into an extremely decadent 4ft advent calendar.
The wooden cabinet houses 24 boxes in the brand's signature robin's-egg blue, with the painting reproduced on the cabinet's face. Inside, each gift-wrapped box is filled with fine jewellery and objects from collections such as Tiffany HardWear, Tiffany T1 and others by designer Elsa Peretti.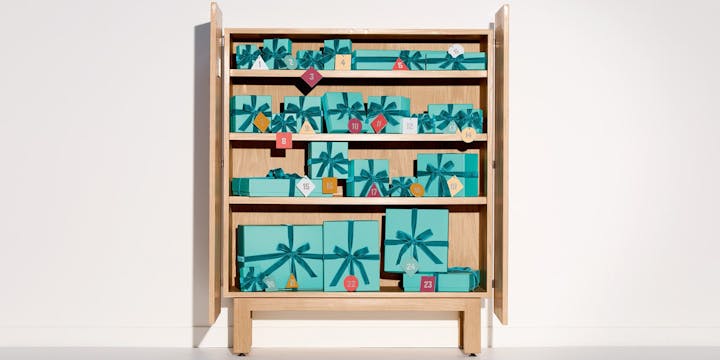 In a statement, Tiffany said the calendar pays homage to the late artist's habit of using found surfaces and unconventional mediums. "Basquiat painted on everyday objects such as windows, doors and refrigerators, recontextualizing objects using cardboard, plywood and other materials," the brand's press release explained.
OK, at $150,000 this one's a bit beyond our advent calendar budget. But it's certainly a bold move from the brand following the controversy generated by its initial use of Basquiat's artwork. $250,000 from the sales of the advent calendar will go to Free Arts NYC, a non-profit that provides art and mentoring programs to underserved communities.
3. KAWSPUFFS
Multi-hyphenated artist KAWS is jumping into the F&B world by collaborating with General Mills' iconic cereal, Reese's Puffs. This playful partnership comes with a competitive gaming twist.
Hypebeasts first heard the news via a post on a KAWS subreddit last month, when it was revealed that selected US retailers had started to receive their shipments and were on standby for the drop(s).
We now know that this hype collab will see two different designs of the iconic Reese's Puffs packaging.
The first brings a co-branded KAWS design to the signature orange box, with a QR code providing access to an exclusive AR game. This edition will be available for $3.99 through participating stores in the US.
The second exclusive KAWSPUFFS collectors' box is even more striking in blue (a first for Reese's cereals). This blue mimics the night-time mode of the 24-hour dynamic AR experience, which allows you to enter the world of KAWS' famous COMPANION and crunch Puffs as they fall from the sky. A limited quantity will be available, online only, for $49.99 USD.
High-scorers on the KAWSPUFFS AR game will also be in with a chance of winning a collectors' box, including a small number signed by KAWS.
This is not the first time Reese's Puffs has teamed up with big names in culture. Recently the brand collaborated with Lil Yachty and Travis Scott. If those packs were anything to go by, we'll be keeping our eyes peeled on StockX. Or should we say, Stock 'XX'.
SEEN is compiled by LOVE's Head of Culture, Kat Towers. Want to say hello, ask questions or challenge her cultural knowledge? Get in touch - kattowers@lovecreative.com