3 x Ways McDonald's won their McHype crown
In today's fragmented media landscape, 47% of internet users have ad blockers in place (Forbes) and social media is creating new rules. Brands are switching their focus from traditional media that interrupts culture to the act of creating culture itself.
According to a recent white paper from Highsnobiety, 96% of readers reported interest in traditional FMCG brands who make unexpected creative changes or collaborate in unexpected ways.
Not all global mega-brands get it right when they dip their toes into culture (ahem, Pepsi), but McDonalds, together with rap star Travis Scott, have earned their collaboration crown, turning 'Happy Meal' into 'Hype Meal' for culture-hungry consumers.
Here are three tactics the brand used to pull off this monumental moment in hype-culture.
1. Utilising an existing product
Clients often come to us with briefs to 'connect with a younger consumer', 'make noise' and 'create new-news'. Sometimes, innovation can do all these things beautifully. But innovation is also time-consuming, costly and, for most brands, not feasible when it comes to making sharp moves into culture.
This is where McDonald's have been smart and authentic with their collaboration. The Travis Scott Meal is a straightforward McDonald's order – a Quarter Pounder with bacon and shredded lettuce, fries with BBQ sauce, and a Sprite.
The authentic bit? That's Travis Scott's real order. It's how he likes it. If you were part of Scott's circle, that's what you'd be ordering. The smart bit? All of these ingredients are there and ready to go. No new supply chains, no testing needed, no time-wasting required.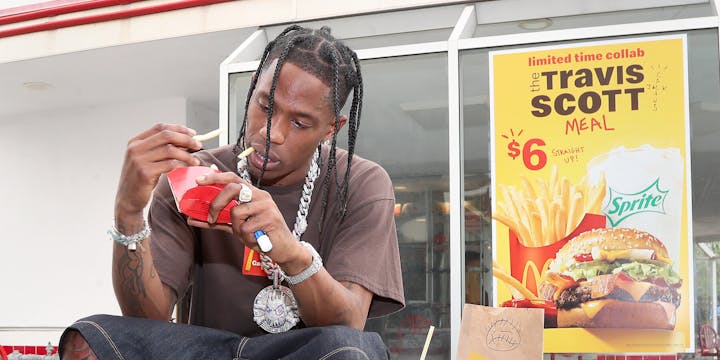 They used an existing product and made everything that wraps around the $6 meal covetable. If you look at where the hype is centring, it's the order tickets and receipts for the meal that are breaking the internet on resale sites, not the burger itself.
GQ interviewed some McDonald's managers to get their view on the collaboration. One stated: "It's interesting to see people really hyped about it even though it's a regular burger with the same ingredients we already have here. You could literally just make it, you know?" That's the power of Scott – he can turn just about anything into a must-cop item.
A measure of success? The collaboration was so unprecedentedly successful that McDonald's reported a shortage of Quarter Pounder burgers.
2. A tiered approach
Along with the combo meal, McDonald's teamed up with Scott's record label, Cactus Jack, for a series of exclusive merch drops that included co-branded t-shirts, hoodies, lunchboxes, lunch trays, cardboard cut-outs, slippers with fry-laces and a $90 nugget-shaped pillow that people can't stop talking about. This is where trusting the brand or person you're collaborating with comes into play. If Travis Scott says his fans will like a giant nugget pillow, you make a giant nugget pillow.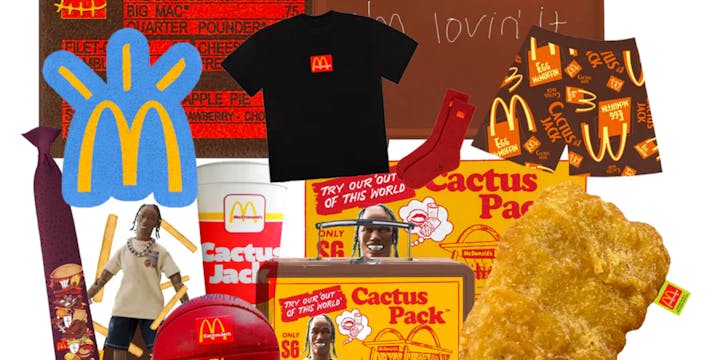 A total of 59 items were released via the Cactus Jack website – as gloriously weird as you could ever imagine – with the promise of more pieces over the coming weeks.
There are levels to hype. At LOVE. we use a 'Hype Model' with our clients:
The first tier is the 'Special Edition', a mass play (which can still be limited in terms of time and/or location) that delivers an unmissable and desirable special edition product at an accessible price. Widely available, but still 'get them before they're gone'. This is the $6 combo meal.
The next level up is the 'Limited Edition', a product or series of products with a premium price point. Limited, but still accessible if you're quick off the mark. This is the nugget pillow. For the hypebeasts.
Lastly, we have the 'Hype Edition'. This is a super-premium price point, or a money-can't-buy item. Extremely scarce and only available to a few. In the coming days, McDonalds and Scott are set to give away the five action figures used to create the collaboration advert. These rarities will be handed out via Twitter sweepstake to a very lucky few.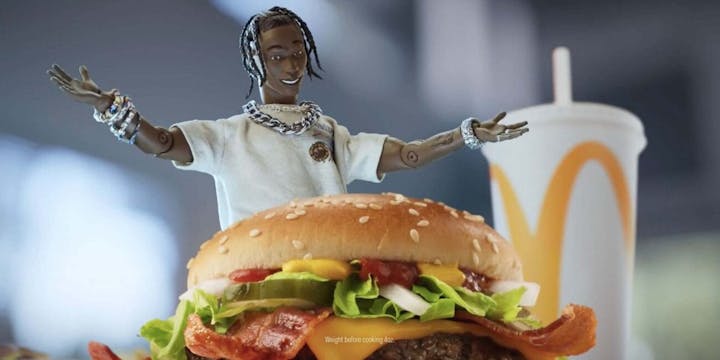 Drops are just that, a drop in an ocean of culture and content, waves of hype lapping the last. As soon as consumers have posted about it, they're surfing the next hype wave. Tiering and sequencing your offer can put more stretch in the collaboration. However, each drop must be more interesting, coveted or exclusive than the last to hold consumers' attention.
3. Embracing the Hype
Burgers flying out the door and sell-out merch will have been the aim for McDonald's all along, but what they couldn't have anticipated was the Tik-Tok trend that's been causing chaos for employees.
Customers have been sharing videos of themselves ordering the meal by blasting Travis Scott's song "Sicko Mode" at a McDonald's drive-thru. The hashtag #travisscottmeal now has over 45 million views.
Executives at McDonald's had to send memos to franchise locations addressing the trend, informing employees about common "alternative ordering methods" such as customers saying "Cactus Jack sent me", "It's lit, Sicko Mode", "The Fortnite guy burger" or simply "You know why I'm here" while playing Scott's anthem.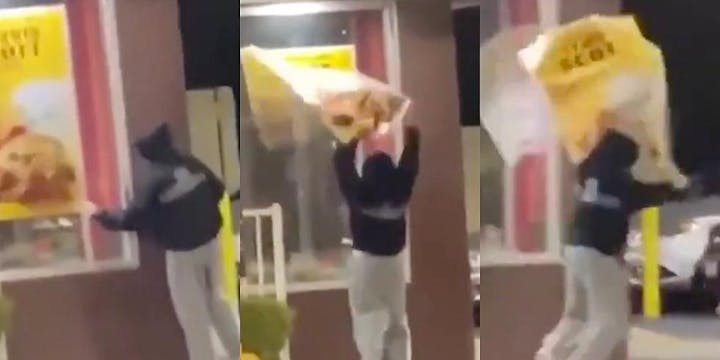 Scott's fans have even been ripping promotional posters from the restaurant windows – and selling them for hundreds on eBay. A video of one poster thief has been viewed 2.2 million times, showing just how much viral content the partnership is creating.
This unprecedented collaborative partnership across food, fashion and community, and McDonald's willingness throughout the machine to embrace the madness, is what has earnt them their McHype crown.
Brands must overcome the fear that they don't have permission to play in culture. That, somehow, the brand isn't cool enough or that their stakeholders, colleagues and store staff won't 'get it'.
As brand guardians, if you feel like you've seen something before, chances are your consumers definitely have. Think back to the brief – is it connecting? Is it creating noise? Is it new news? Or is it something tried and tested and therefore something you're comfortable putting budget behind? If it's the latter, by default it's not new news and your brand is not pushing culture forward.
Big business and cool CAN coexist. Hiring in-tune people within the company will help you shortcut into culture (think less time selling-in an idea internally and more time connecting with your consumers). Or follow McDonald's lead by informing employees down the chain that you're breaking the internet and showing them how to embrace and adapt as you go.
SEEN is compiled by LOVE's Head of Culture, Kat Towers. Want to say hello, ask questions or challenge her cultural knowledge? Get in touch - kattowers@lovecreative.com