3 x Winning brand plays for Euro 2020
Finally, Euro 2020 is here. After last year's postponement, patient fans are strapped in for a 30-day feast of goals, glory and questionable punditry. The squads have been named, the fan parks have completed their Covid-19 risk assessments. Supermarket entrances are crowded with crates of discounted lager. The first few group games have been played. Martin Garrix, Bono and The Edge have even released the official Euro 2020 song. But don't let that put you off.
ITV bosses have predicted a £1bn bonanza that pushes ad spending back to pre-pandemic levels this summer (thanks in part to a competition requiring more tactical nous and physical fitness than even international football: Love Island). So we're going to see a lot of betting promotions, limited-edition beer bottles and elaborate TV spots starring footballers (Eric Cantona for Sports Direct is our pick so far). But which brands have really seized the opportunity?
1. TikTok
Remember Euro 2016? Roy Hodgson's England were humiliated in the last 16 by Iceland. Coronavirus wasn't even a thing, and neither was TikTok.
Now the digital platform is rolling out its first ever major sports sponsorship at Euro 2020, having posted supercharged growth during the pandemic (the deal was only done in February 2021). The Euros has never had a sponsor from the world of tech and entertainment before, but these two seem like a perfect match – at the heart of it, both are all about fandom.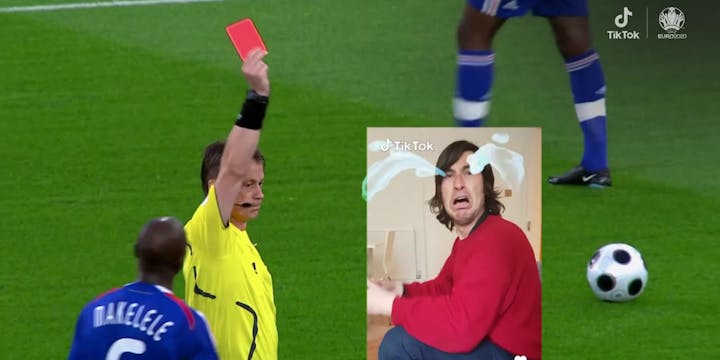 The hero film that launches TikTok's sponsorship, Where Fans Play, makes this clear with a series of iconic football moments receiving the TikTok treatment. Meanwhile, EMEA marketing boss James Rothwell told the Drum that TikTok's unique offering will enable the brand to go far beyond a traditional partnership. "We're a media partner, a content ecosystem, a creative platform that just allows us to flex and have a bit more fun with how we bring the sponsorship."
TikTok will be moving quickly throughout the tournament, reacting to events on the pitch in less than 24 hours with ads featuring unique user-generated content. This Euros takes place in a world that's very different to what it was even in 2016, and TikTok seems like the perfect sponsor for our unprecedented times.
2. Paddy Power supports England
Paddy Power have a niche and they aren't about to abandon it now. But the professional wind-up merchants may have surpassed their previous stunts (remember Rhodri Giggs musing on the value of loyalty?) with a new high watermark in mischief. The bookmaker's Euro 2020 campaign urges Irish fans to do the unthinkable this summer and root for England.
The kicker is that for every England goal, Paddy Power will donate at least €10,000 to Irish football. With Ireland's footballers failing to quality for the tournament, this pledge gives Irish fans a reason to cheer – although some may struggle to get on board. "If football's coming home, we might as well benefit," Paddy Power said.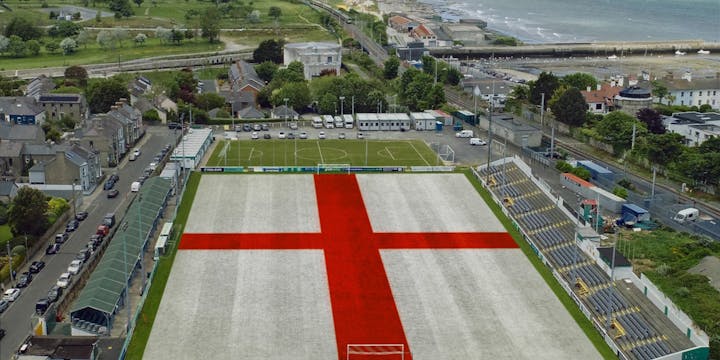 As usual, the firm went all-out to launch the campaign. A huge St George's Cross was installed on the pitch at Bray Wanderers in County Wicklow, sure to make any proud Irishman wince. There will also be a €20,000 'backstabber bonus' paid if Jack Grealish or Declan Rice (players with Irish heritage who chose to represent England instead) find the net.
Alongside a wicked sense of humour, the campaign shows off Paddy Power's disruptive instinct and deep understanding of football tribalism. Well played. And if our record in recent Euro tournaments is anything to go by, Gareth Southgate's England squad may need all the support they can get.
3. Weird Euros
This one comes out of the left field, but we had to shine a floodlight on Weird Euros, a set of illustrated beer mats that offer a uniquely humorous take on famous moments from European Championship history.
Featuring the work of big names (and perennial favourites in the LOVE studio) like David Shrigley and Chris (Simpsons artist) alongside emerging artists, the project aims to raise money for grassroots football charities as part of the Adidas Football Collective.
We'd love to see some of the Euro 2020 beer bottles and other limited packaging on the shelves this summer eschewing the corporate sponsor playbook and taking this kind of irreverent approach to football history. And judging by the response Weird Euros has been getting, so would consumers. Here's hoping this year's tournament throws up many more weird and wonderful moments to remember.
SEEN is compiled by LOVE's Senior Copywriter, Matt Duxbury. Want to say hello, ask questions or challenge his cultural knowledge? Get in touch - mattduxbury@lovecreative.com