3X BRANDS BRINGING HERITAGE TO LIFE
Brands are finding new and exciting ways to celebrate their heritage. Through immersive pop-up spaces and curated experiences, some of the biggest names in luxury are reintroducing classic products and unlocking fresh audiences by delving deep into their archives.
The key is to treat brand heritage as a creative jumping-off point, reinventing iconic moments to draw parallels with the brand's present and future direction. Here are three brands making their long and storied histories feel fresh and vital in 2023.
1. COACH'S TABBY POP-UP IN SYDNEY
Coach never seem to miss with their brand experiences, and the recent pop-up at Sydney's Carriageworks was no exception.
This two-week activation celebrated the history of the Tabby, a bag designed in the 1970s and now available in an updated silhouette, through a trio of decorated subway cars.
Walking through each carriage in turn, visitors were invited to explore the past, present and future of the product. The first space was devoted to archive moments and vintage prints, the all-pink second car offered a playful homage to the bag's current incarnation, and the third carriage was all about personalisation and the bespoke luxury of the future.
Throw in cute touches like the ticket booth and Tabby Café on the station platform, and you've got a pretty flawless experience. A space that heroes a single product while retracing the evolution of the entire brand. We can all learn from Coach…
2. GUCCI VISIONS IN FLORENCE
Gucci is the latest fashion label to celebrate its heritage through a dedicated fine art-style exhibition (see also: Louis Vuitton's LV Dream in Paris). With 102 years at the forefront of luxury, there's a lot to look back on.
Now open at Gucci Garden, the brand's gallery space in Florence, Gucci Visions is an eight-room experience that blends archival pieces and immersive technology "to echo how the 360° virtuosity of the House's imagination rebounds across time".
The dedicated rooms enable Gucci to zoom in on core themes and creative milestones. The "Icons" room presents a special focus on three signature accessories, with more than 400 different versions of the Bamboo 1947, Horsebit 1955 and Jackie 1961 bags arranged on mirrored shelves.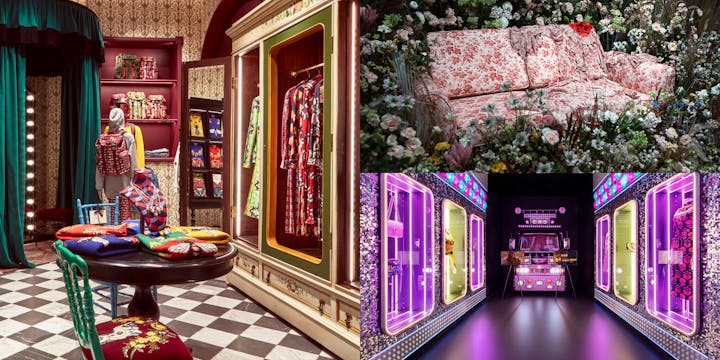 In contrast, the Metaverse room invites visitors to explore recent digital ventures such as Gucci Town on Roblox from the comfort of a gaming chair.
Only a handful of brands could pull off an exhibition of this scope and variety. A kaleidoscopic experience sure to draw Gucci diehards and new fans alike, Visions is a fitting testament to the brand's creative longevity.
3. 40 YEARS OF NIKE PEGASUS IN SHANGHAI
Nike are no slouches when it comes to building brand mythology and elevating single items to icon status – just look at the success of Air Max Day. Now another famed shoe is getting the star treatment.
The brand's new installation at the House of Innovation in Shanghai pays tribute to Nike Pegasus, the perennial runners' favourite first launched in 1983. This retail exhibit combines irreverent details like running-themed bumper stickers with more refined elements of brand storytelling, all wrapped up in a slick vending machine activation that offers a playful twist on the idea of "fast".
Across town at the Nike store in Huai Hai, the Pegasus 40 celebrations continue with a special retail space that includes a shoe-box wings sculpture (the shoe was named after the winged horse of Greek mythology) and reiterates the visual language of the HOI installation. Honk if you love running!
Words by Rebecca Reeves, Senior Interior Design.
SEEN is our monthly-ish 3x3 newsletter about brands, trends and creativity. Subscribe by getting in touch here: hello@lovecreative.com.