3x Stores Changing The Way We Shop IRL
We're in a new era of stores. Post pandemic, digital shopping and experiences have expanded – becoming bigger and bolder in the ways they draw customers in online.
To keep up, brick and mortar stores are having to adjust by finding newer and more inventive ways to improve their physical footfall. Now, they have to offer more than just a shopping experience. They have to offer the digital experience, instore.
With department stores and shopping complexes typically thought of as the most traditional type of retail, this brave new world means retailers have been faced with making big changes in order keep up their customer count. But while some have struggled, others have thrived – evolving to create innovative and multi-faceted spaces for customers to enjoy.
Here are three major department stores shaking up the way we shop IRL.
1. SKP-S EMBRACES THE SURREAL
Following the success of their 2018 launch, SKP recently unveiled a new floor of their China-based department store.
Dedicated to Millennial and Gen Z shoppers, the experience (titled SKP-S) takes visitors on a dream-like journey through time and space – showcasing an intriguing mix of luxury lifestyle, fashion and beauty stores.
Featuring animal-themed robotic performance art, the layout tells a dystopian story set within a 60-metre crushed hexagon 'Time Tunnel'. Brought to life by Sybarite, the experience also encompasses an "energetic assembly line where satellites are in a state of repair, optimism is in the air, recycling and reconstruction are in process, and cranes move heavy components."
2. DIOR REOPENS ITS DOORS
After a two-year renovation and expansion, Dior's first and flagship Parisian store, 30 Avenue Montaigne, has opened its doors to the public once more.
The storied hotel particulier, originally built by Napoleon's son in 1865, comprises a restaurant, patisserie and gardens alongside retail, hospitality and exhibition spaces. The impressive interiors (designed by architect Peter Marino) are also super Instagrammable – successfully bridging the gap between on screen and IRL.
To celebrate the grand reopening, the brand also released an exclusive collection of handbags and accessories that can only be purchased with a visit to the "kingdom of dreams".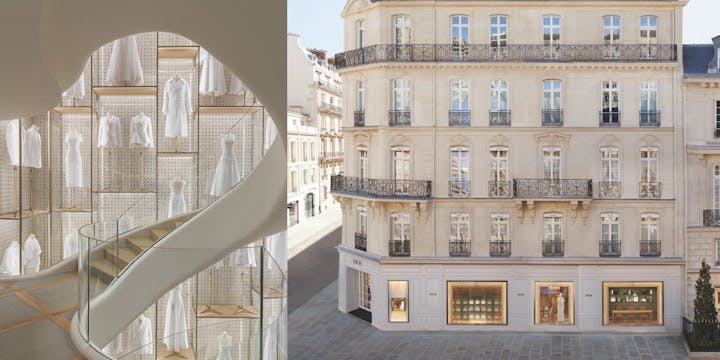 Speaking to Harper's Bazaar about the need to embrace physical stores post pandemic, Dior's director of heritage Soizic Pfaff said: "You must not sell only, that's for sure.
"Demonstrating the craftsmanship is important. [It helps with] the communication of the brand. The internet is fantastic, of course, but people want that [experience] now – especially now. They need that. The internet is great for a certain type of product, but for some garments you need contact, and you also need contact with the salespeople.... It helps you understand the value of the product. We have to have both."
3. WOW CONCEPT GOES OFFLINE
One brand going against the grain is WOW Concept – the online brand retailer who recently opened their first real-life department store.
Spread over six floors in an historic former hotel, the Madrid-based store is a step in a new direction for the brand. Throughout the building, spaces bring to life different concepts and experiences for shoppers – from a "Tech Garage" featuring a 3D printed marine landscape and AR integration, to a "Home Boulevard" which blends the physical and digital worlds through Metaverse-inspired homewares.
It's a move that paves the way for digital brands wanting to turn their hands to the physical. In a world where everything we do is increasingly online, it's a refreshing step back for shoppers looking for an immersive experience that they can actually feel.
SEEN is compiled by LOVE's Spatial Designer, Rebecca Reeves. Want to say hello, ask questions or challenge her cultural knowledge? Get in touch - rebeccareeves@lovecreative.com