3x WAYS ALCOHOL-FREE BRANDS ARE LEVELLING UP
A sober night out was once a miserable experience. A flat lime & soda in your hand, looks of pity and suspicion from friends, colleagues and complete strangers. Now, not drinking is an aspirational choice. The "low and no" category offers a wealth of intriguing options for the sober-curious, from beers that actually taste of something to wine alternatives and functional beverages.
As the market continues to grow, some brands are starting to promise the seemingly impossible – non-alcoholic (and non-hangover inducing) drinks that still provide some buzz or mood enhancement. Too good to be true? We look at the brands leading the alcohol-free movement.
1. A LUCKY SAINT OPENS A NEW LOCAL
Launched in 2018, alcohol-free lager Lucky Saint is already stocked in Tesco, available at Michelin-starred restaurants and reporting year-on-year revenue growth of 180%. Now it's opened its own pub.
The Marylebone boozer (formerly the Mason's Arms) is called, unsurprisingly, The Lucky Saint, with the upper floors also serving as the brand's head office. The bar is fully licensed, but a wide range of alcohol-free beers take pride of place. It's one of several new London drinking spots with a focus on booze-free enjoyment (see also: Club Soda in Covent Garden).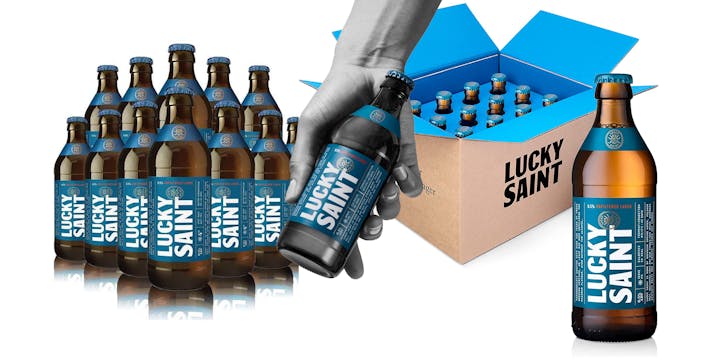 Lucky Saint seems to recognise which parts of drinking culture are worth preserving when alcohol is removed from the equation, so launching a pub feels like a natural next step for the brand. Director of marketing Kerttu Inkeroinen told Raconteur that being available on draught is essential. "It's not just that it tastes better, but I think people like the feel of having a pint glass in their hand," she explained. "They can get a Lucky Saint and not feel like they're the odd one out".
As a purely alcohol-free brand with a single core product, Lucky Saint benefits from a focus and distinctiveness that others in the space lack – and the brand is setting its sights high. Inkeroinen said the goal is to become the Guinness of alcohol-free beers. "We want people to just order a Lucky Saint, almost on instinct".
2. NEXT-GEN BRANDS PROMISE A BOOZE-FREE BUZZ
Flavour is one of the main reasons we drink, but another is undeniably how it makes us feel. Opting out of alcohol once meant swerving a potential hangover, but also missing out on the more pleasurable effects. Now, things aren't quite so clearcut. The growing category of "functional beverages" promises a new kind of alcohol-free experience, with some claiming to boost mood, increase relaxation and foster social connection.
A dizzying number of new products fall into this bracket, with many containing adaptogens (plant substances traditionally used in herbal medicine to manage stress) or nootropics (often-synthetic substances designed to enhance brain function).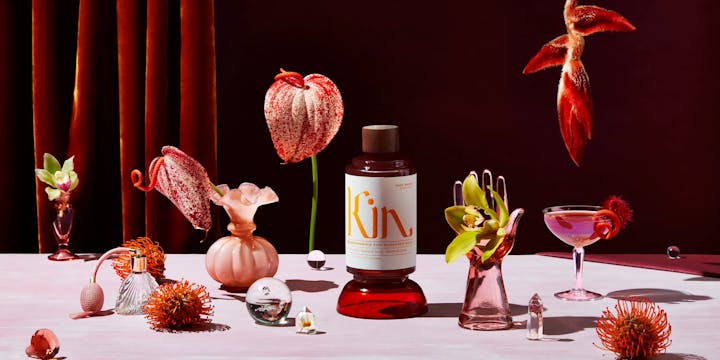 Kin Euphorics is a line of canned drinks devoted to "feel-good revelry" with names like Lightwave and Actual Sunshine, co-founded by Bella Hadid. Sentia is a "mood enhancing spirit" developed by neuropsychopharmacologist Professor David Nutt. Impossibrew ("Drop the booze. Not the buzz".) is a beer made with "relaxing nootropics".
But do they really work? With many of these ingredients, research into their effects is limited and questions remain, particularly when they are used in a proprietary blend. For now, it seems the drinker's mindset will play a key role. In a recent tasting, Esquire's Finlay Renwick was particularly convinced by Sentia's Red Gaba Spirit, explaining how he felt "an immediate sense of calm and relaxation" as the drink triggered his gamma-aminobutyric acid (GABA) neurotransmitter to induce a feeling of sociability. His conclusion: "It sounds like bollocks, but it's quite incredible."
3. PROXIES MAKES ALCOHOL-FREE WINE ACCEPTABLE
In the bad old days of mocktails and tasteless 0% lager, perhaps no boozeless drink had a worse reputation than alcohol-free wine. Today, brands like Proxies are leading a new wave of slickly designed, fully credible wine-like beverages that won't leave you craving a real Shiraz from the first sip.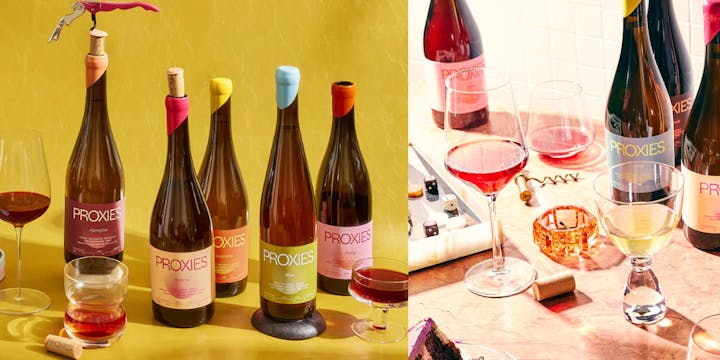 Proxies calls its drinks "a new form of wine alternative – not dealcoholized wine, but layered blends of fruit, teas, spices, and bitters, designed to pair with food and be enjoyed in your finest stemware". Already listed in hyped restaurants across the US, the brand has found a winning formula by retaining key aspects of the conventional wine experience (the opening and pouring ritual, complex flavour profiles) and adding something completely new. These bottles aren't designed to replicate a particular type of wine, but stand up as flavour experiences in their own right.
A smart collab strategy is also winning Proxies kudos in the world of food and wine. The latest drop, Petanque, was created with three-Michelin-starred chef Dominique Crenn. Vice described it as "a joyful endeavour". The brand has previously collaborated with chef Sean Brock and star sommelier Andre Hueston Mack, bringing real cultural clout to their experimental leanings. Expect to see Proxies hitting many more non-wine lists soon.
Words by Matt Duxbury, Copy Director.
SEEN is our monthly-ish 3x3 newsletter about brands, trends and creativity. Subscribe by getting in touch here: hello@lovecreative.com.