3x Ways Corteiz is breaking all the rules
What other brand has a buzz like Corteiz right now? The cult London label has risen rapidly to become one of streetwear's hottest names, driven by the kind of frenzied fandom and super-charged hype most marketing directors would sell their Granny for.
In the process, the brand – along with other emerging names like Manchester's Drama Call – has restored vitality and authenticity to a streetwear scene that was losing touch with the street.
Corteiz operates with a guerrilla mindset and unruly energy that is uniquely its own. But what can others in fashion and beyond learn from this livewire upstart with the Alcatraz logo and the "Rules the World" slogan? We've identified three key ingredients in the Corteiz secret sauce...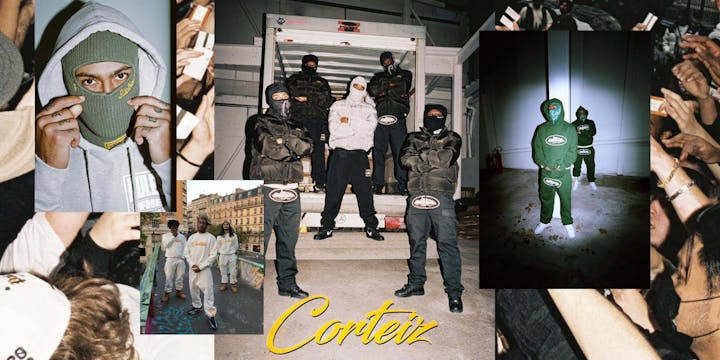 1. A DEFIANTLY GRASSROOTS OUTLOOK
Despite clout-heavy co-signs from stars like Dave, Jorja Smith and the late Virgil Abloh, Corteiz seems driven by the sort of egalitarian, community-first values that other streetwear names have long left behind.
Corteiz's founder, known simply as Clint, actively discourages all resale of the brand's highly-coveted clothing. Operating solely through word of mouth and social media, he eschews traditional marketing spend, never gives interviews and doesn't use influencers. This refusal to jeopardise an authentic connection with fans in order to chase wider commercial success is intrinsic to the brand's appeal.
Sandy Kaur, host of the Her Story in Sneakers podcast, told Vogue Business: "Corteiz doesn't gift people or pay for promotions, so the celebrities you see rocking it have believed in it. The company is Black-owned and very much stands for London culture."
2. AMPED-UP SCARCITY
Corteiz releases product in sporadic, highly-limited drops that typically sell out in minutes. So far, so Supreme. But the brand has further refined the art of scarcity, moving beyond the usual hype tactics to a higher level of IYKYK-ness. The Corteiz Instagram is private and the e-commerce site – the only place to buy new product on drop days – is password-protected.
The challenge of actually getting your hands on some Corteiz fuels the hype while paradoxically cementing the brand's down-to-earth ethos – you matter who you are, you need to hunt down that password before picking up a Corteiz balaclava or pair of joggers.
3. SHEER UNPREDICTABILITY
Corteiz has built its buzz through pop-ups, parties and giveaways that mobilise its young fanbase. But there was a sense of the brand raising the stakes with its January stunt, known as Da Great Bolo Exchange.
The event, described as "modern day performance art" by New Wave Magazine, told fans to show up at a secret location wearing a puffer jacket from premium brands like The North Face, Moncler and Supreme. The first 50 people on the scene (a car park near Wormwood Scrubs) were then able to trade their item for Corteiz's unreleased Bolo Jacket.
This was an audacious move that seemed to delight and confuse online commentators in equal measure, with the nuances of the exchange still being debated across subreddits and social media channels. It also demonstrated the deep connection between Corteiz and its community, while proving just how sought-after the brand has already become.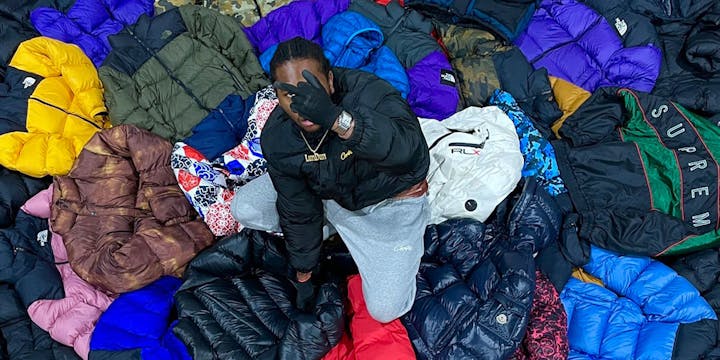 Not only did hundreds of young people show up to try copping a jacket (documenting everything on social media), many were happy to give up high-value pieces in exchange for an unreleased Corteiz puffer. But there was a further twist – the haul of traded high-end jackets (apparently worth £16,000) was then donated to a local homeless charity. "Lord forgive me for ever hating on the Bolo Exchange" one Twitter user commented, having earlier questioned the brand's motives.
It seems impossible to predict what Corteiz will do next, but you wouldn't bet against it topping this latest triumph with another piece of bold street theatre very soon. Corteiz Rules the World.
SEEN is compiled by LOVE's Senior Copywriter, Matt Duxbury. Want to say hello, ask questions or challenge his cultural knowledge? Get in touch - mattduxbury@lovecreative.com