3X WAYS LOUIS VUITTON ARE STAYING ON TOP
Recently, MSCHF spoofed the small-bag trend by creating and auctioning a handbag smaller than a grain of salt. When placed under the microscope, the logo on this miniscule creation was unmistakeable: the LV monogram.
Right now, the LV name seems to have more cultural currency than ever. Having been named the world's most valuable luxury brand for the 18th year running, this fashion behemoth is a master in accessibility – reaching beyond the realms of fashion to target a huge range of audiences.
From local coffee shop pop-ups to prestigious artist collabs, let's look at how Louis Vuitton have been doing things lately.
1. COLOUR, CULTURE AND COFFEE
In June, Shanghai saw Louis Vuitton launch a trio of colourful pop-up bookstores across the city to promote their new series of City Guides – a high-end book collection offering insider tips and tricks for travel.
Partnering with three of the city's most popular coffee brands, Manner, Metal Hands and Plusone, the pop-ups were rolled out as part of LV's local initiative, preceded by the opening of a similar bookstand at The Hall (their Chengdu restaurant) back in April.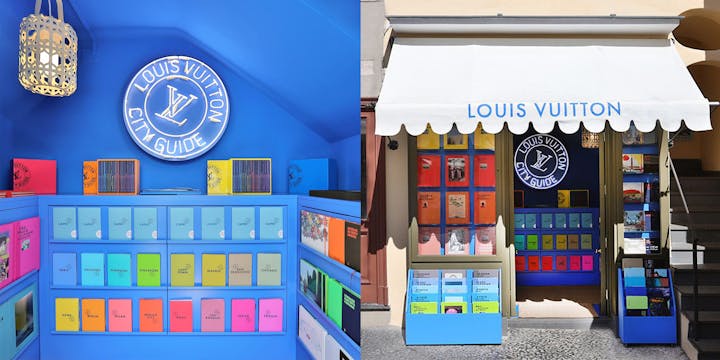 But while this foray into the written word is nothing new for the brand, whose published works also feature Fashion Eye and Travel Books, it appears to be LV's decision to partner with coffee shops that's causing a stir on social media. Online, Chinese consumers are praising the brand's efforts to be more accessible and down-to-earth.
The collabs are part of the Louis Vuitton's strategy to bring more "colour and culture" to cities across China, and fans can expect to see more of these lower-end, localised activations in LV's portfolio – especially in the run up to the opening of their four-storey standalone store in Beijing next year. Watch this space.
2. GOING ONCE...
In a move that further fuels the brand's cultural capital, July saw LV team up with Sotheby's to launch a prestigious public charity sale featuring 22 artist designed Artycapucines bags.
Each of the Capucines bags, a silhouette originally launched in 2013, has been remade by an artist and signed under the flap. On arrival, it will be presented in a monogrammed version of the iconic Louis Vuitton Boîte Chapeau.
The bags are positioned as unique, collectible art pieces, with names such as Amélie Bertrand, Daniel Buren and Sam Falls included on the roster. Anyone can bid in the auction, but with figures starting at $16,000 – it's fair to say that, in comparison to their coffee shop collab, these prices are reserved for a smaller slice of the LV fanbase.
3. FAMOUS FACES IN HIGH PLACES
In late June, Pharrell took the internet by storm. One of the most anticipated events in recent fashion history, the multihyphenate's debut menswear collection for Louis Vuitton saw Paris's Pont Neuf shut down and adorned with a golden runway, as guests like Beyonce, Zendaya, Kim Kardashian and Lebron James watched on.
The show came just a few weeks after Rihanna joined forces with Pharrell to help front his first official Louis Vuitton campaign. For his upcoming SS24 menswear collection, the shoot featured RiRi showing off a selection of bags branded by Pharrell as "everyday icons".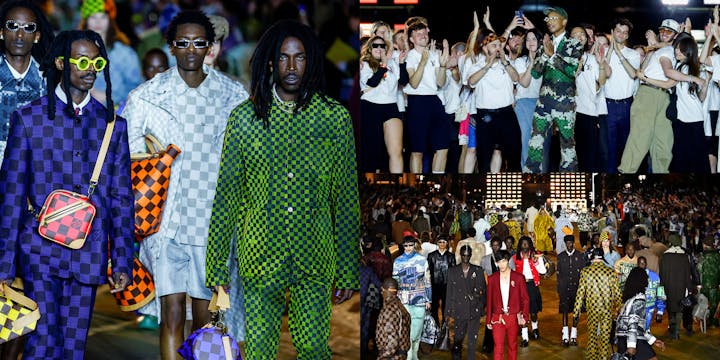 Celebrity affiliation is nothing new for LV, whose past brand ambassadors have included the likes of Madonna, but their latest choice of Artistic Director seems to be a gear switch. The coveted post, which was last held by Virgil Abloh, has only employed fashion designers until now – whereas, despite a strong foothold on the fashion world, Pharrell's musical background seems to skew as more "celebrity" in the traditional sense.
Having garnered over 1 billion views across various platforms though, it seems this move might just be the right one for the brand. Could this success signpost the way to an even bigger future for this beloved fashion house?
Words by Emma Cocker, Copywriter.
SEEN is our monthly-ish 3x3 newsletter about brands, trends and creativity. Subscribe by getting in touch here: hello@lovecreative.com.