3X WAYS MONCLER IS REDEFINING LUXURY
Over the past few years, Moncler has captured the attention of new luxurians globally. The latest Lyst Index report, ranking the world's most sought-after brands, saw Moncler move up 14 positions to claim third place behind only Prada and Gucci.
How have they done it? Visionary sub-brand Moncler Genius has a lot to do with it. Launched in 2018, Moncler Genius began life as a co-creation platform, inviting collaborators to provide new takes on Moncler's historic archive. It has since moved way beyond its original purpose to take on a life of its own.
Driven by this success, Moncler is currently at the top of its game. The brand navigates the luxury market with a non-conformist approach, making its own rules and carving a path for other brands to follow. Here are three ways Moncler has used the Genius platform to transcend luxury outdoor wear and become a cultural trailblazer.
1. ADOPTING A COMMUNITY-FIRST APPROACH
Traditionally, the luxury sector has been untouchable to the masses, reserved only for the most elite clientele - hidden rooms, appointment-based access, invite-only fashion shows and guarded stores.
Now the rules are being rewritten. The most premium brands are starting to adopt a community-first approach, valuing cultural currency over short-term sales figures. And no brand is doing this better right now than Moncler.
The Moncler Genius platform has ignored the way luxury brands typically touch base with their consumers. Instead of the biannual collection schedule typical of the high-fashion industry, it issues monthly product drops, ensuring a regular dialogue with its followers.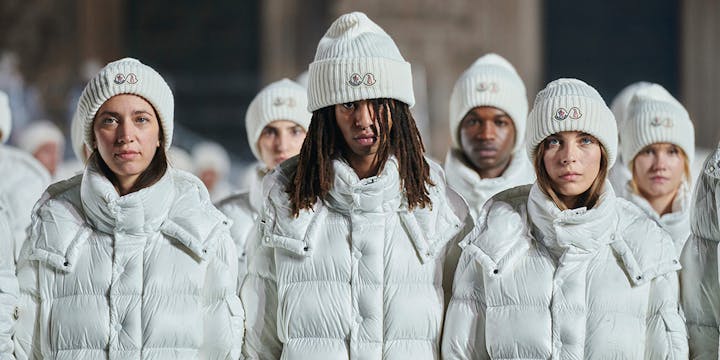 Chairman and CEO Remo Ruffini told WWD in 2022: "Relationships are more important than transactions. If there are relationships, the transactions will follow". Ruffini's statement was reinforced by the brand's latest innovation, 'The Art Of Genius', an event that took London Fashion Week by storm in early 2023.
This expectation-defying show gave Moncler's collaborators a space to present their unique visions in an immersive environment. And the event wasn't restricted to VIP guests. Although some A-list invitees were in attendance, Moncler also made the show accessible to 10,000 people who were able to sign up online. Well-dressed fans flocked to the location, eagerly snapping footage of the experience to share with their followers, opening up the evening to millions of fans digitally.
Tapping into these communities globally is a clever tactic from Moncler and emphasises luxury fashion's metamorphosis from an ultra-exclusive world to one that appreciates the value of a loyal community.
2. TAPPING COLLABORATORS WITH SKILL AND CULTURAL CAPITAL
The Genius platform is based on a collaborative foundation, designed to engage a younger, culturally-savvy luxurian consumer. The initiative invites a range of creatives, spanning various artistic categories, to apply their own visions to iconic Moncler puffer garments.
Within the luxury industry, more and more importance is being placed on high-profile creative collaborators who are not only highly skilled and innovative within their sector, but also equipped with deep cultural intuition.
This shift is evident in LVMH appointing Pharrell Williams as creative director of Louis Vuitton Men's. Williams is a multi-faceted talent who carries cultural capital in and outside the fashion world.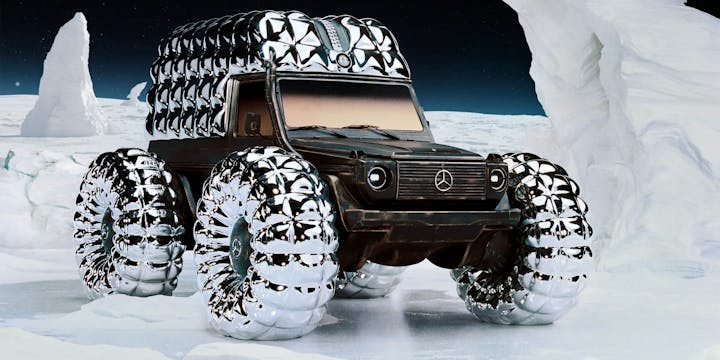 The long-time influencer of cool was also brought on board to design a collection for Moncler Genius, as the brand follows a similar approach to LVMH. Again, The Art of Genius was a good example of Moncler's forward-thinking strategy - the event saw names like Williams and Jay-Z appear as collaborators, as well as in-demand designers such as Salehe Bembury.
Moncler has a rare ability to push the boundaries of luxury by placing itself at the intersection of art, design, music, sport, entertainment and culture. The Art of Genius included Palm Angels hosting a foam party, Mercedes-Benz presenting an otherworldly G-Wagon transformed into a chrome puffer coat, and Bembury presenting moving installations alongside his capsule collection (as well as many other social media approved co-created rooms).
The amalgamation of co-creators tapped by Moncler - and the expressive way in which these partnerships transcend clothing design - exemplifies a huge shift in how luxury fashion is operating.
3. SHOWING UP IN UNEXPECTED WAYS
Moncler is clearly winning by running with a non-conformist attitude, disregarding industry barriers and setting a new standard for the world of luxury and design. This approach weaves through all the brand's outputs, from design to retail.
However, not everything is designed to attract Gen Z consumers. Moncler remains in touch with its wider Gen X and Millennial audience, who still account for roughly 70% of the brand's revenue. But even when talking to a more established audience, the brand manages to move the needle by showing up in unexpected ways.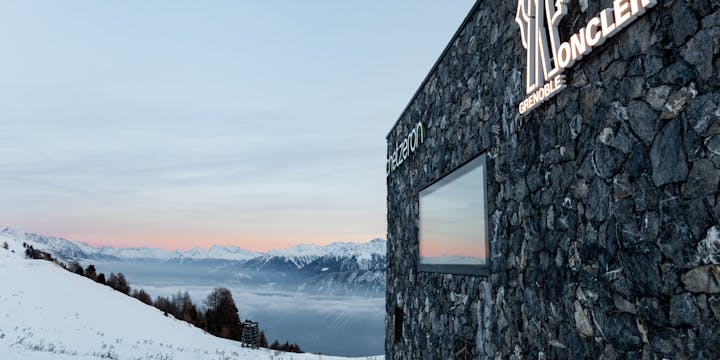 Moncler Grenoble, a high-tech performance line designed for 'active millennials' (30 to 40-year-olds), recently launched a pop-up store at more than 2,000 metres above sea level, with giant windows offering views of the Alps' highest peaks. It's an example of the brand retaining the same bold approach, tweaked for the audience, across every output.
Nobody could have predicted how the Milan-based brand has taken its roots in outdoor wear and nurtured them to become a category-leading label that is redefining the luxury sector. Moncler should be an inspiration to other luxury brands feeling fearful to step out of their comfort zone.
Words by Ella Palmer, Culture.
SEEN is our monthly-ish 3x3 newsletter about brands, trends and creativity. Subscribe by getting in touch here: hello@lovecreative.com.