3x Ways small is winning big in beauty
Sampling has always played a key role in beauty culture. According to a Euromonitor report, beauty samples are the third-largest driver of full-size product purchases, surpassed only by past experience and recommendations from friends and family.
Many brands are now finding that sample-size formats can help them connect with young beauty explorers in a new way. These smaller formats appeal to savvy consumers who are looking for practical, thrifty ways to discover multiple brands and products.
Heavily influenced by fast-evolving social trends and the belief that better is always coming, beauty enthusiasts are driving a surge in pick-and-mix style shopping. Here are three ways small formats can translate into big business for beauty brands.
1. Small Discoveries
Brands are meeting consumers' thirst for new, affordable feel-good treats. This can mean anything from customised sample box subscriptions to beauty advent calendars (which are not just for Christmas by the way). Huda Beauty just launched their '1001 Nights' gifting calendar, designed to be opened on the last ten days of Ramadan after breaking fast.
Meanwhile, fragrance brands from Byredo to Loewe to Le Labo are monetising samples by packaging them up as 'discovery sets'. Once you've fallen in love with a scent, you can redeem the cost of the discovery set against a full-size purchase.
2. New retail concepts
Zooming in on China, where the sampling craze is already big business with beauty-obsessed Gen Zers, physical pick-and-mix playgrounds are taking sampling to the next level.
Beauty concept stores have been booming across China's premium shopping districts for a few years now. Harmay, a beauty retail chain specialising in selling samples, have captured a growing number of Gen Z consumers who enjoy the thrill of 'treasure hunting' and the joy of creating social-worthy photos in the beautifully designed, mile-long sample aisles.
Other sample-haven concept stores such as Wow Colour and The Colorist have also taken China by storm, allowing consumers to score big-name brands at a fraction of the full-size cost.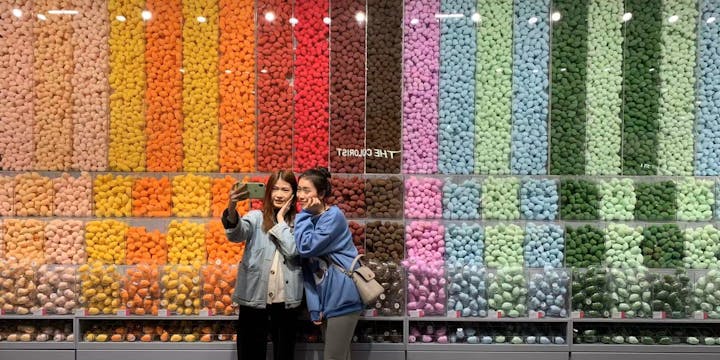 3. Data Freebies
In an era where first-party data is everything, samples could be the bargaining tool brands have been looking for. We know consumers want something tangible in return for their details, and this hasn't gone unnoticed by international brands looking to score data with China's beauty-loving consumers.
Brands from Lancome to Dior to Estee Lauder to Kiehl's have all set up beauty sampling machines across China's premium malls, encouraging users to register in Wechat relationship marketing programs in exchange for free samples.
According to Jing Daily, Kiehl's Wang Chenyi has said that "from the backend data, we found out that 80 percent of the people who took samples from our machines were potential new customers who had not purchased Kiehl's products in the last three years".
As the Gen Z beauty market continues to expand, we will likely see more brands adjust their approaches to court younger consumers who want to explore with fun, low-commitment miniature formats.
SEEN is compiled by LOVE's Head of Culture, Kat Towers. Want to say hello, ask questions or challenge her cultural knowledge? Get in touch - kattowers@lovecreative.com