FROM SURVIVING TO THRIVING - HOW WE KEPT THE SPARK IN GLOOMY 2020
By Trevor Cairns, CEO
When we left our studio in March, shuttering it to enter lockdown, the future seemed gloomy. We felt emotional and uncertain over what the next few months might hold. Would we ever all be together as a team again? Would LOVE look the same a year down the line?
Yet from the vantage point of December, there are reasons to feel upbeat, a tad surprised – and somewhat proud. One thing we couldn't foresee in March is that 2020 turned out to be our best year yet. Yes, against many odds and the predominantly negative headlines in our industry, we've had a great year financially.
But even more importantly, we've had a bumper year in terms of team ethos, agency culture, client relationships; in terms of validating our tenacity, our tendency to stick to our guns, but also our ability to adapt, to find enthusiasm and opportunity amid the crisis.
The year has also brought into focus some important lessons – lessons we will carry over and build on in 2021. Here is some of what we have learnt…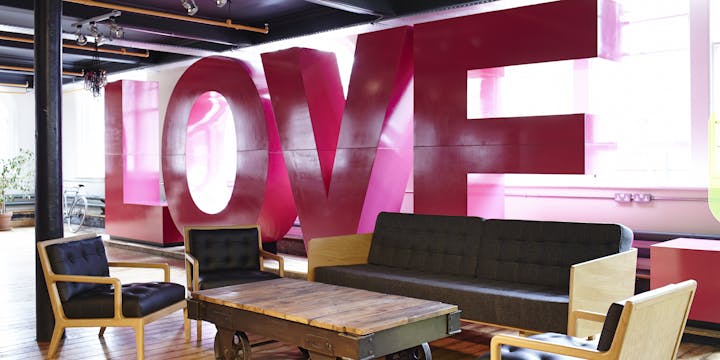 Lean on me - Team Success
The geographical spread of the clients we work with gave us a significant degree of protection, and our work in 2020 almost exclusively came from existing clients. We work with many global brands, so as the pandemic swept around the world, markets that had first been hit started to pick up and recover again and work therefore tended to follow.
However, the most important part of our navigating 2020 successfully was our team. The culture that we built in this studio over many years paid immense dividends.
That cultural foundation enabled our teams to adapt, to carry on supporting each other remotely and to keep bringing their best work. It shouldn't have been a surprise, but we never thought working from home could be so effective. It transformed the WFH sceptics among us into flexible working converts. And even though we are all keen to return to the studio once the pandemic is over, this flexibility will remain baked into our weeks in some form.
Invest and Diversify
We also realised this year, that even though it may be counter-intuitive, you must invest during a crisis. There is a tendency to retreat when faced with such monumental uncertainty, to become too conservative. However, the pandemic hit when we had a certain momentum and we decided to keep fuelling that momentum rather than just playing 'wait and see'. So rather than entertaining thoughts of furlough, we have welcomed a dozen new team members since the start of lockdown, to both strengthen and diversify our offer.
This is where our multi-disciplinary nature also came into its own. There is always debate about the merits of being a specialist or a generalist. Our breadth of discipline this year has proven crucial. Where some specialists were hit particularly hard – exhibition design agencies, for example, got wiped out overnight – we have enough strings to our bow to minimise any over-reliance on a particular discipline. It is a diverse approach that also applies to the breadth of categories we work in. Many of our high-profile projects are in the alcoholic drinks sector, but almost 50% of our work comes from other categories.
Sticking to Our Values
Equally, this year was often about knowing what to turn down, being true to what we're good at and what excites us as an agency. Even though any potential work might seem appealing in times of crisis, remaining true to our values and who we are has never been more important. It is about taking on the projects that will excite the team and that will produce the most effective work for a client. This year has also demonstrated the importance of positioning - the adage of either being the very best creatively or the cheapest to secure success has never rung more true. The middle seems a very dangerous place to be all of a sudden.
In addition to validating our ethos and approach, 2020 gave us some time to forge new priorities. It has given us pause, time for thought, to put long-standing passions into motion that a pre-pandemic mindset might not have given us the room for.
For example, we have been taking a much deeper look at the role design can play when it comes to sustainability – to be part of the 'build back better' response to the pandemic.
Even if clients don't have the time to consider sustainability at every step, we can assume the responsibility of educating them. Part of our role has to be bringing expertise and new thinking to our clients, challenging briefs and encouraging them to break the cycle of unsustainable consumerism – to see what they won't.
It is something that is top of our agenda for the coming year. Alongside a pipeline of projects, it enthuses our team and will ultimately elevate our work. So here's to 2021 – may we all take some of the past positives, and turn the lessons and silver linings of 2020 into the creative opportunities of the New Year.