3X CELEBRITY BRANDS MAKING WAVES
Launching your own brand of something is pretty much a minimum requirement for any self-respecting celebrity in 2022. Whether you choose skincare start-up, swimwear line or sparkling wine, another income stream is never far away.
In this saturated scenario, brands with celebrity clout attached really need to hit the mark if they want to stand out. The best of the bunch combine innovative design with a cultural awareness that seems almost telepathically dialled-in to their core audience. The famous figurehead may ensure some level of mainstream interest from the jump, but these brands aren't afraid to lean into the idiosyncrasies of their founders – in the process, creating products that feel like an authentic extension of their personality.
Here are three celebrity passion projects we're rating right now.
1. ASAP ROCKY MIXES IT UP
Already a rap star, fashion icon and Rihanna's boyfriend, ASAP Rocky seems determined to make his Twitter bio even longer and become a true "multi-hyphenate" artist. His latest project is Mercer + Prince, a Canadian whisky with an unsurprisingly stylish design and smooth flavour.
The brand is more than just a pretty bottle, however, with a story and sophistication that cements Rocky's reputation as an elite tastemaker with his own unique take on the contemporary "hybrid aesthetic". Speaking to Hypebeast, he explained: "When it comes to whisky, it is a very traditional kind of liquor category. I think more so than ever, just for the generations to come and the way culture is now, it's all about blending everything. Diversity is the key."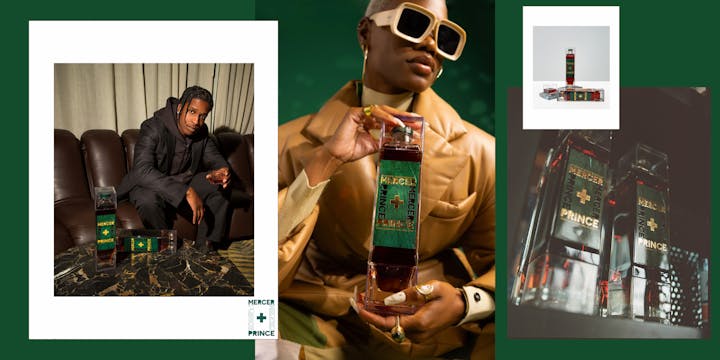 Named after a New York City street crossing where cultures and communities mix freely, Mercer + Prince is aged in American white oak barrels and influenced by Japanese Mizunara oak for a rich and robust character. The bottle also cleverly incorporates two cups, so after purchase you can enjoy a drink immediately… or ASAP??
2. HARRY STYLES KEEPS PLEASING THE FANS
Harry Styles may have reached the level where his every avant-garde style choice is relentlessly scrutinised by the internet, but the former One Directioner remains incapable of putting a foot wrong. His latest venture, Pleasing, is not an adult toy brand but a purveyor of nail polish and skincare products. And the Styles stans can't get enough.
Pleasing recently dropped its second "micro-collection", Shroom Bloom, featuring the brand's already Insta-famous decanter-style bottles with round marble tops. The launch was supported by pop-up stores in London, New York and Los Angeles, and was fronted by Mick Fleetwood, photographed at home in Hawaii. Yes, the Fleetwood Mac guy. Somehow, it all makes perfect sense. If you've already tuned into Harry's wavelength, this drop will take you further into his world.
3. SETH ROGAN STACKS UP FOR THE SMOKERS
Is Seth Rogen the most successful stoner of all time? Elon Musk might drive his fanboys wild by smoking the occasional joint, but Rogen's a die-hard weed head who somehow managed a big movie career – and he continues to make shrewd moves through the haze.
Doubling down on his passion for weed culture, the affable Canadian (together with long-time collaborator Evan Goldberg) launched cannabis-and-accessories outfit Houseplant in 2019 and recently unveiled a smart makeover for the brand.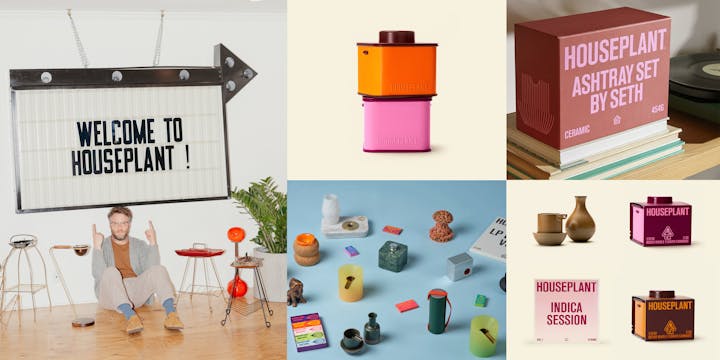 The new stackable packaging, available in bold block colours and embellished with modernist product illustrations, is perfectly calibrated to achieve Instagram standout and drive collectability. This latest incarnation seems certain to take Houseplant into the cannabis industry's top tier – and Rogen gets extra props for his recent feature in Architectural Digest, where he shows off the company's LA bungalow-come-brand HQ and predicts a new golden era in ashtray design.
SEEN is compiled by LOVE's Senior Copywriter, Matt Duxbury. Want to say hello, ask questions or challenge his cultural knowledge? Get in touch - mattduxbury@lovecreative.com