3x Reimagined retail experiences
Non-essential retail has only just reopened in the UK (has the queue got smaller at Primark yet?) and already brands, designers and venues are re-emerging with fresh ideas. It's clear that many non-virtual retail experiences are going to look and feel very different to their pre-pandemic predecessors.
From multi-store concepts to playful pop-ups and mashed-up third spaces, here are three ways we're seeing retail reimagined.
1. Anya Hindmarch's Village
Anya Hindmarch is opening a 'village' of stores in Belgravia to showcase different facets of her brand. The retail concept will bring the designer's trademark wit to life through a mix of spaces dedicated to brand experiences, installations, collaborations and customisation.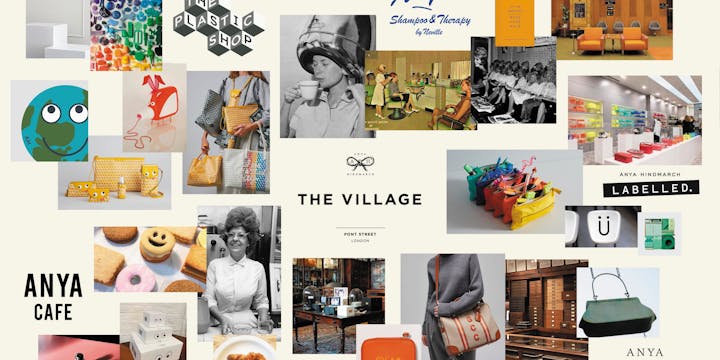 In a post-pandemic, digitally-led world, brands must give consumers a reason to shop IRL. Anya is giving us five:
The Village Hall: an ever-changing concept space, which will launch as the "Anya Hair Salon, Shampoo & Therapy".
The Plastic Store: a space to showcase and collaborate, focused on issues of sustainability, circularity and the reduction of plastic consumption. This will also be the destination for Anya Hindmarch's "I Am A Plastic Bag" collection, which is made from recycled plastic bottles.
The Labelled Store: a space dedicated to the Labelled collection, which comprises cases and bags designed for organisational needs.
The Bespoke Store: a space for personalised products.
And finally, Anya's Café, which is "inspired by the quintessential British café of old but reimagined with the brand's trademark humour".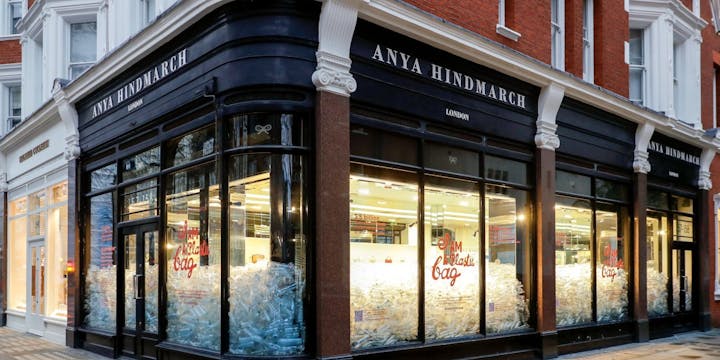 A brand spokesperson said: "The Village is the realisation of the new type of retail experience that Anya wants to offer her customers and followers in our post-pandemic world – a special where the brand can focus all of its creative energy, a place to meet, collaborate and share both in person and virtually."
2. The Design Museum Supermarket
London's Design Museum has opened an artist-led 'supermarket', in collaboration with artist Camille Walala and Bombay Sapphire, to address the importance of creativity in our daily lives.
The store features repackaged 'essentials' such as tea, coffee, bread and toilet paper, each featuring limited-edition label artworks designed by a group of emerging artists. Public museums in England must remain closed until May 17th, but the Design Museum has effectively circumvented these restrictions by presenting an exhibition as a grocery shop. The message from the organisers is clear: #CreativityIsEssential.
"Our high streets, museums and galleries have been hit hard by the pandemic; this is an opportunity to get people back to enjoying our cultural institutions safely and creatively," says Tim Marlow, director and CEO of The Design Museum.
Proceeds from the supermarket's sales will go to the museum's Emerging Designer Access Fund, a scheme that enables burgeoning design talent to access its events and exhibitions free of charge.
3. Bowery Showroom
New York's Bowery Showroom is part designer thrift store, part CBD distillery. The venue went viral before it even opened thanks to more than 5.5 million TikTok views and 2,000+ eager shoppers turning up to its pre-launch event.
The Lower East Side hangout will carry cannabis-related products from their wildly popular sister brand, Potion, on top of rare sneakers, designer grails and offerings from independent New York-based artists and small businesses.
According to YPulse, weed was among the top 20 things that Gen Z and Millennials could not live without during the pandemic, with 59% of 18 to 36-year-olds saying CBD should be mainstream.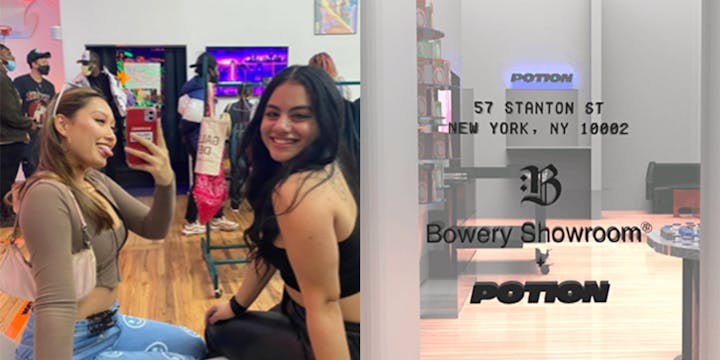 The space will also host workshops for creatives, art installations and parties where visitors can make their own art. Tired of the Manhattan bar scene, Bowery's founder Matt Choon set out to create "an inclusive, accessible, future-facing atmosphere".
We've seen third spaces evolve over the last decade. Purely functional or transactional spaces now morph from retail or café hangout to co-working hub to installation space to nightclub, and back again, in the space of 24 hours.
Post-pandemic, as high streets find their feet again, we look forward to seeing more mash-up retail breathe new life into redundant units.
SEEN is compiled by LOVE's Head of Culture, Kat Towers. Want to say hello, ask questions or challenge her cultural knowledge? Get in touch - kattowers@lovecreative.com