3 x WAYS SELFRIDGES' PROJECT EARTH IS REWIRING LUXURY RETAIL
Selfridges has launched its new sustainability initiative, Project Earth. This is a commitment from the retailer to change the way we all shop by 2025, building on the steps Selfridges has taken over the last decade to put sustainability at the centre of its business.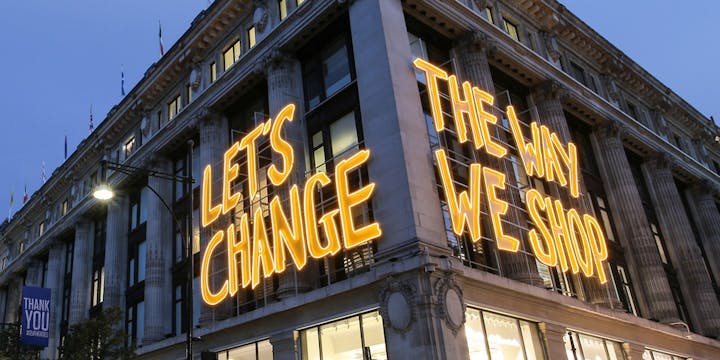 Anne Pitcher, Selfridges Group Managing Director, said in a statement: "We firmly believe evolving the way we do business and supporting change in the way people shop is essential to building a more sustainable business. Selfridges has the platform to change how shopping is done wrapped up in the destinations, experiences and inspiration customers want from us."
Having partners on board is key to the project's success. Selfridges will work with over 300 brand partners to kickstart an eight-week campaign of experiments, innovations and conversations across all of its stores and online.
First into the retailer's iconic 'corner shop' pop-up space is Prada 'Re-Nylon'. In a global first, the takeover features a fully sustainable line, using regenerated nylon made from a unique recycling and purification process of plastic waste collected from oceans, fishing nets and textile fibre waste.
Here are three other ways Selfridges are rewiring luxury retail to meet their goals:
1. RENTAL

The rental revolution is in full swing. Thanks to the access economy, the move away from ownership is nothing new – many of us already take Ubers instead of owning cars, use Borrow My Doggy to avoid the pain of actually having to keep a pet, watch Amazon Prime and stream from Apple Music. But an alternative to ownership is only just taking hold on the fashion front.
Instagram hashtags such as #OOTD (outfit of the day) have promoted a 'one and done' mindset when it comes to owning clothes. Coupled with the accessibility of fast fashion, we've seen fashion consumerism peak.
Extending the lifespan of clothes that already exist is one of the best things we can do to reduce the environmental impact of our wardrobes. In recognition, Selfridges have hooked up with HURR to create a destination for earth-conscious luxury shoppers.
The rental collection will feature a carefully curated selection of contemporary and designer pieces. Lovers of luxury fashion can loan the pieces for four, eight, ten or twenty days to suit the event they are borrowing for and their budget. All items will be rented at a fraction of their RRP, with prices starting at an affordable £30.

2. REPAIR & RESTORE

Luxury consumers are developing more sustainable relationships with their clothing and accessories, seeking out services that prolong the life of garments and re-create their original state.
As part of Project Earth, Selfridges have launched a Repairs Concierge, as well as enlisting the help of 'The Restory', a high-end repairs service, now available in-store.
Catering to time-pressed customers, The Restory has set up a drop-off station, where guests can deliver their items – such as worn leather handbags or scuffed shoes.
After paint touch-ups, polishing and stain removal, The Restory will wrap and ship the item to the customer's chosen destination, be it their home or back to the store for collection.

3. RESELLFRIDGES

Many young people are turning to resale sites such as Depop in the UK, The RealReal in the US and YCloset in China – and the second-hand market is expected to grow faster than fast fashion in coming years.
After hosting a pop-up collaboration with Depop earlier this year, Selfridges are launching their own resale model, making it easier than ever before for customers to shop pre-loved, vintage or archive clothing and accessories.
'Resellfridges' hopes to help conscious consumers close the loop on unnecessary landfill waste. We're here for that.
SEEN is compiled by LOVE's Head of Culture, Kat Towers. Want to say hello, ask questions or challenge her cultural knowledge? Get in touch - kattowers@lovecreative.com