HÄAGEN-DAZS
HÄAGEN-DAZS INTERNATIONAL WOMEN'S DAY EDITION
Häagen-Dazs wanted to honour their unsung female co-founder Rose Mattus on International Women's Day. They needed a creative campaign to chime with the theme of Embrace Equity and make Rose's legacy unforgettable. We created the perfect serve for their Ice Cream Queen.
THE CONTEXT
Inspired by their indomitable co-founder Rose Mattus, Häagen-Dazs were launching 'The Rose Project', a global initiative pledging $100,000 to support trailblazing women who Don't Hold Back. We were asked to develop a creative launch campaign and packaging design for International Women's Day that would put Rose's role on par with fellow founder, and husband, Reuben. We saw a new way to tell the origin story and show an icon in all her glory.
They say Reuben and Rose created Häagen-Dazs in New York in 1960. We saw it like this: Reuben made flavours, Rose made Haagen-Dazs famous. She worked tirelessly behind the scenes turning Reuben's creations into a luxury product and Häagen-Dazs into a national, then international brand. But despite this harmonious business partnership, the extent of her influence has been rarely acknowledged outside of the business. Props were well overdue.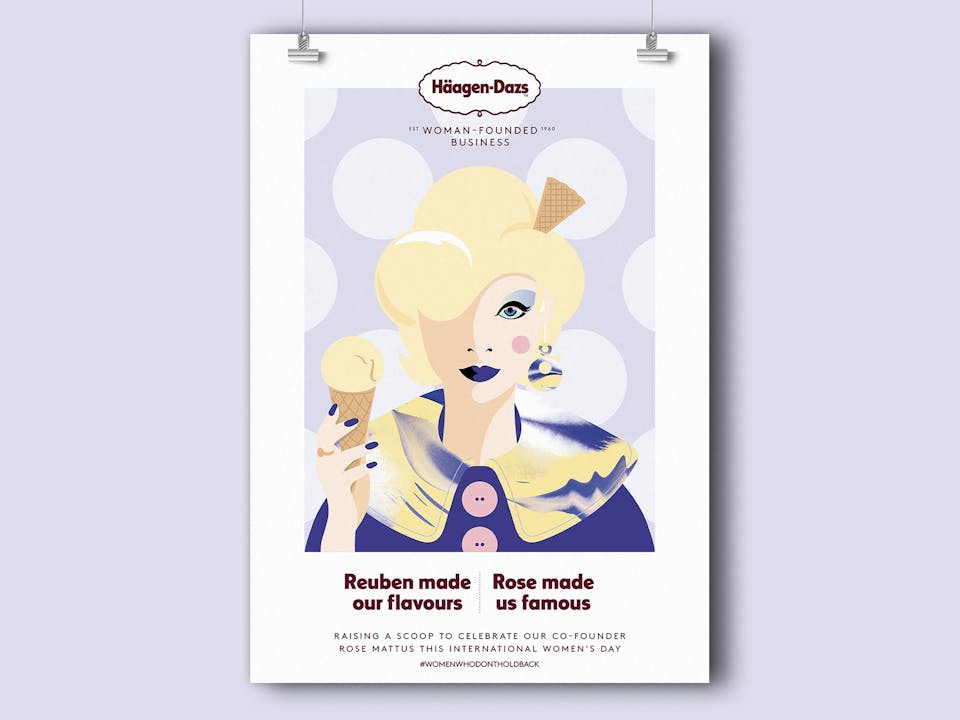 OUR RESPONSE
We've created and executed multiple packaging designs and product launch campaigns for Häagen-Dazs, but this one was different. Not only did we have to raise the profile of an inspirational leader, we needed to keep the taste appeal high. Luckily, Rose was the absolute embodiment of the Häagen-Dazs brand and its Don't Hold Back spirit. We took that literally and let it flavour our creative approach.
The plan was to release a special edition 'Founder's Favourite' vanilla in recognition of Rose's life-long love of Reuben's original creation. So we went back to the '60s and imagined what that first taste might have stirred within Rose. With two headlines and one powerful illustration, we reframed her role in the brand story and helped Häagen-Dazs redress the balance.
THREE SCOOPS TO CONQUER
We channelled Rose's professional poise and enduring sense of style, and applied our knowledge of the brand flavour cues (cue wafer) and perfect serves (cue three scoops, not two), to create a vision of ice cool determination and ice cream perfection. Female founder and flavour were front and centre.
Our line: 'Reuben made our flavours, Rose made us famous' chimed perfectly with the International Women's Day theme of Embrace Equity also, giving the brand a succinct campaign line to use across all comms.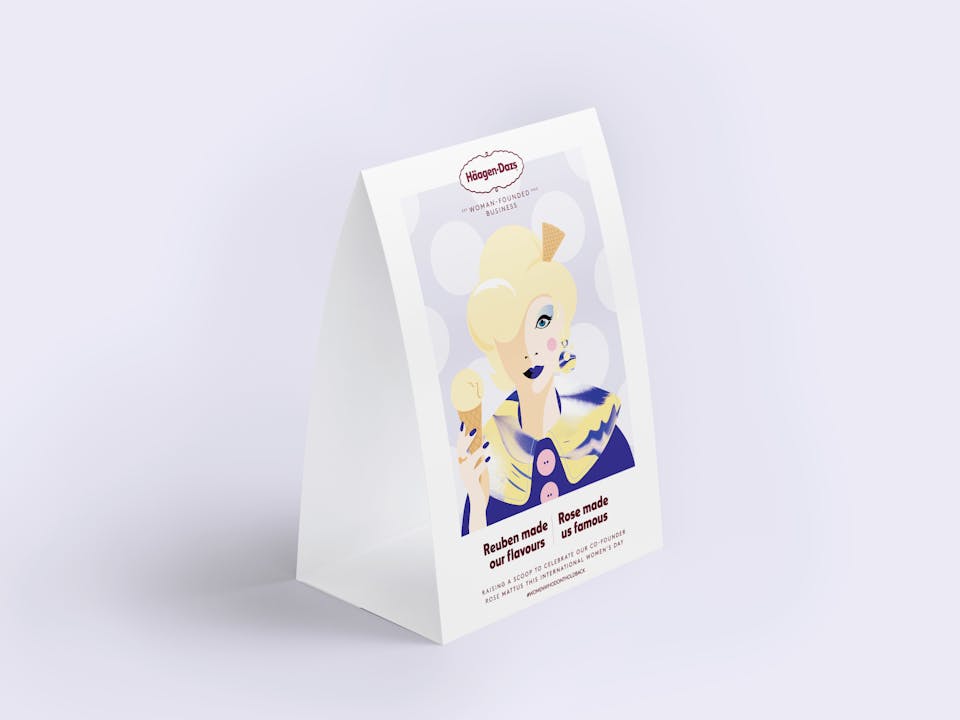 "The creative work, support and passion from LOVE came at a critical juncture to elevate and breathe fresh life into our IWD campaign both internally and externally. [Their] design savvy and creative execution made a world of difference."
THE RESULT
Starting on International Women's Day, the limited-edition run of 'Founder's Favourite' Vanilla take-home pints was made available in over 100 selected Häagen-Dazs Shops across Europe, Latin America, Asia and the Middle East. The campaign gained a reach of over 4 billion PR impressions and was mentioned in over 1,000 articles in 20+ countries around the world.
Closer to home, the work was covered by Campaign, Little Black Book and The Dieline as well as The Drum, Marketing Week and Ad Age.
Nominations for The Rose Project are now open and can be submitted via www.iwd.haagen-dazs.global.